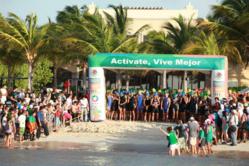 Participants swam 750 meters in the Caribbean Sea and rivers, then biked 20 kilometers and ran 5 kilometers in the Tres Rios Nature Park.
Riviera Maya, Q. Roo (May, 2013) (PRWEB) June 05, 2013
More than 300 of the most outstanding athletes in the south east of the country enthusiastically took part in the 3rd Sprint Triathlon, 2013, in the Hacienda Tres Ríos Resort, Spa & Nature Park in the Riviera Maya, Mexico.
In this traditional sporting celebration, which took place in a beautiful natural setting and perfect weather conditions, the absolute winners in the men's competition were Carlos Gracida in first place, while Jesús Lizama and Sebastián Ordoñez finished in second and third place respectively. The competition consisted of swimming for 750 meters, cycling for 20 kilometers and running for 5 kilometers. In the women's event, the first three places went to Carly Casarrubias, Brenda Iñigo and Nelly Becerra.
Aire Libre, recognized internationally in the world of sports for organizing these type of events, and the ecotourism complex, which belongs to Sunset World Resorts & Vacation Experiences, were pleased to announce that the event was a total success, not only due to the number of participants, but also thanks to the positive atmosphere and the excellent weather conditions that were enjoyed during this exhausting race.
Sunset World invited a select group of international journalists and national celebrities to take part in this unique sporting event and they were divided into two relay teams, the first made up of Howard Hian, the actor Rubén Branco and the actress Mariana Van Rankin, while the second group was made up of journalists Salomé Areco and Lorena Martín, together with the actor Juan Carlos Gascón
Aire Libre commented that the Hacienda Tres Rios Sprint Triathlon has positioned itself as one of the most attractive in the country for triathletes who come from different parts of the country to enjoy this sporting competition and enjoy a few days of rest in the Riviera Maya.
The organizing committee broke the news that they hope to hold a fourth edition in May next year, but they don't plan to increase the number of participants for logistical reasons, due to the size of the Tres Rios nature park; however, they plan to improve the competition by introducing Olympic distances to make it more attractive for the athletes.
This third edition included a men's and women's category, for athletes over the age of 16, and prizes were awarded in kind for the first three positions in each category.