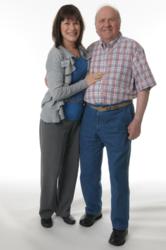 The program's approach is to provide a community of care and support in which every person is honored and given opportunities to enhance their body, mind and spirit.
PITMAN, N.J. (PRWEB) June 06, 2013
Worldwide, the number of people with dementia, currently estimated at 35.6 million, is projected to nearly double every 20 years in the future. Among approximately 5.2 million Americans of all ages with the illness, 150,000 reside in New Jersey. With a senior-focused mission, United Methodist Homes has already established memory support residences (MSR) for persons with Alzheimer's disease and other dementias in three of its senior communities. The fourth Memory Support Residence will open at Pitman Manor in Pitman. The public is invited to the grand opening from 3 to 6 p.m. on Thursday, June 13, 2013.
Alzheimer's, a brain disorder and the most common form of dementia, robs people of their intellectual abilities and daily functioning. Because the progressive illness diminishes skills over time, the Pitman Manor program revolves around activities associated with living at home. Consistent with that goal, the space has undergone a complete renovation, designed to emulate a home environment.
Fully furnished and appointed, the Memory Support Residence occupies two wings on Pitman Manor's third floor. Amenities include a two-sided fireplace, outdoor balcony, common open spaces, dining room, country kitchen, director's office, wellness desk, consultation and meeting rooms, large and small activity areas, and therapeutic spa, complemented by 23 studio apartments. Two prominent assistive technologies will be employed: a new nurse call and wander management systems to maximize safety.
Programming, based on individuals' unique needs, preferences and strengths, also promotes dignity and independence. Therefore, for therapeutic value, everyday routines in the MSR incorporate those individuals do at home such as setting the table, baking, cooking, folding clothes, socialization, and more. Other important programming components include fitness, music and sensory involvement.
Elizabeth Cook, formerly the assisted living social worker, has been promoted to director of memory support services. "The program's approach is to provide a community of care and support in which every person is honored and given opportunities to enhance their body, mind and spirit," articulated Ms. Cook. Her credentials include a Bachelor of Science in Social Work from the University of Dayton, Ohio; CSW (Certified Social Worker); C-SWCM (Certified Social Worker Case Manager); and CALA (Certified Assisted Living Administrator).
She affirmed, "Music, an ethereal force, translates so many ways for so many people, especially for those with dementia. Ironically, in my years of experience I have observed that often, people who cannot speak can still sing, as it uses a different nerve pathway. We employ music as a tool for sensory stimulation and mood stabilization."
A full complement of staff has been screened, interviewed, hired and trained. In addition to the required in-service training, associates received six more hours of mandatory and essential dementia instruction. Ms. Cook, who is responsible for ongoing staff education, has carefully chosen team members "with tremendous hearts who truly wish to honor each resident and bring professionalism, tolerance, patience and compassion."
A global aging population is one of the most far-reaching developments in the 21st century, bringing both challenges and opportunities. The Alzheimer's Association reports that in New Jersey alone, 439,000 caregivers gave 500 million unpaid hours of care in 2012. The Pitman Manor Memory Support Residence will help to relieve some of these caregivers' obligations.
The Homes' first dedicated memory support residence opened in 2005 at The Shores (Ocean City) followed in 2009 by the John Ziegler Memory Support Residence at Bristol Glen (Newton), and more recently, Francis Asbury Manor (Ocean Grove) in 2010. The Pitman Manor Memory Support Residence will complement the services already offered there: residential and assisted living, respite care, short-term rehab, skilled nursing, and hospice and palliative care.
United Methodist Homes is a not-for-profit organization guided by a volunteer board of directors affiliated in ministry with the Greater New Jersey Annual Conference of the United Methodist Church. The mission of the United Methodist Homes is to provide quality and caring services to senior men and women in a Christian community. With over 106 years of continuous operation, the organization has grown to ten communities offering services to persons of all faith backgrounds.
To schedule a tour or obtain additional information about Pitman Manor, visit http://www.pitmanmanor.org or call Pam Mezis at 856-589-7800.