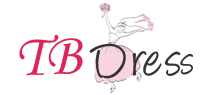 (PRWEB) June 05, 2013
The trends for women's dresses shift every month and the market changes. A senior designer from TBdress.com has predicted the Summer 2013 trends, saying that mermaid wedding dresses will become very popular in this Summer. Today, TBdress.com releases its new collection of mermaid wedding dresses, and announces the availability of great discounts, up to 70% off.
There are 469 mermaid wedding dresses in the new collection, and these new dresses come in different designs and colors. As other outfits from TBdress.com, these dresses have these characteristics: fine tailoring, rich choices, and meticulous production. Now, they are available at discounted rates.
"We are excited to provide new dresses to ladies worldwide, and the shopping of trendy mermaid wedding dresses from TBdress.com must be a great shopping experience," says, Jennifer Nicole, CEO of the company. "In addition to affordable prices, we provide discounted shipping costs to our customers worldwide."
TBdress.com's outfits never compromise on quality; the company hires popular designers who can create good-looking dresses at affordable rates. Customers can also contact us if their desired option or size is not available or if they want a completely custom design."
About TBdress.com
TBdress.com aims to make women more beautiful by offering stylish and high-quality women dresses to each customer. TBdress.com has been in existence for more than 5 years, supplying a range of women dresses (wedding dresses, girls party dresses, etc.). Good customer service, high-quality, fast delivery, and competitive prices, are the reasons to choose TBdress.com.
For more information, please visit: http://www.tbdress.com/