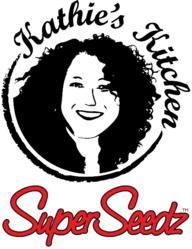 North Haven, CT (PRWEB) June 05, 2013
Kathie Pelliccio could not have imagined that her pursuit of finding the perfect crunchy and nutritional topping for her salads would set forth a direction in helping her create a thriving million dollar company. Welcome to Kathie's Kitchen, a maker of specialty Premium Roasted Shelled Pumpkin Seeds that come in eight delicious flavors. As a caterer, chef and mother of five, Kathie came to realize and understand the tremendous health benefits and versatility of pumpkin seeds. In the fall of 2003, Kathie began experimenting with dry roasted pumpkin seeds in her kitchen and eventually perfected them into three different delicious flavors: Original Curry, Cinnamon & Sugar and Somewhat Spicy. Kathie recognized not only had she created a healthy salad topping, but also a healthy snack food that could be enjoyed by children and adults everywhere.
Armed with her new product and determination, Kathie quickly launched her new company and appropriately named it Kathie's Kitchen and began selling her new pumpkin seeds SuperSeedz™ at local holiday shows, festivals and community events to an overwhelming positive response. Kathie would be out selling SuperSeedz during the day, and at night, Kathie would pack seeds with her father Richard Hughes in the family kitchen.
Kathie's hard work began paying off when she received her first large order from IGA Stores in 2004. It proved that mainstream supermarkets would actually carry a premium dry roasted flavored pumpkin seed.
"My first three years in business was a real learning curve. I never realized how complex the food industry was. It's an industry that has many, many different layers. From finding suppliers, to identifying co-packers, talking with distributors and then finally getting your product in front of category buyers, it's quite a maze to navigate through," said Kathie Pelliccio.
Pumpkin seeds have long been valued for their medical properties and scientific research has shown that there are many more health benefits to eating pumpkin seeds that anyone previously thought. Pumpkin seeds might be tiny, but their health benefits appear to be huge and beneficial. The tiny seeds are an excellent source of both omega-3 and omega-6 fatty acids. Pumpkin seeds are crucial for good immune function, as well as for healthy skin, blood clotting, digestion and nerve function. Pumpkin seeds are also rich in B-vitamins, important for moderating stress and contain many other minerals that support the immune system, including the antioxidant minerals selenium and zinc.
"Our obsession for great taste and health is what separates our products from everything else in the snack food category. Healthy is good. But, healthy and tasty is fantastic," added Pelliccio.
Not only was business going well, but by the grace of pumpkin seeds, Kathie met her soon to be husband, Joe Pelliccio, who was a big fan of SuperSeedz. Now, they both travel the country introducing SuperSeedz to consumers everywhere. They recently exhibited SuperSeedz at the Winter Fancy Food Show and The Natural Product Expo West in California. Both shows were tremendously successful and have catapulted SuperSeedz from a regional brand to one that is now quickly growing into a national brand.
"We want to create a nation of seedlings. We know how healthy SuperSeedz are. But, once consumers experience the taste, they're hooked. As we like to say…Finally, a health food that tastes so good, you'd swear it's junk food," stated Joe Pelliccio.
Today, Kathie's Kitchen is a company that produces a line of eight flavored premium dry roasted shelled pumpkin seeds and perfects them into a delicious and powerful nutritional snack that is gluten free, peanut free, tree nut free, soy free, dairy free, vegan non-GMO and MSG free. SuperSeedz are now sold in over 5,000 retail locations across America and growing.
Sea Salt - Just the right amount of crunch with a light unrefined Sea Salt seasoning added. Not too salty and great tasting…this SuperSeedz is taking America by storm.
Coco Joe - Just the right combination of high end French cocoa, vanilla, sea salt and a hint of coffee to satisfy all chocolate lovers. This is a guilt free snack that is surprisingly low in sugar and big in chocolate taste.
Really Naked - A true testament to the great flavor of dry roasted and shelled SuperSeedz without seasoning of any kind. Completely sodium free.
Somewhat Spicy - Cayenne, garlic and sea salt all combined to bring a truly addictive savory snack.
Super Spicy - An intense habanero flavor with a black pepper surprise ending. Just the right amount of kick without too much heat. This is a fun flavor that will satisfy every heat seeker.
Original Curry - A great mild and subtle curry blend that is not overpowering, yet memorable. Great out of the bag or on salads or in soups. Original Curry SuperSeedz is the only flavor that is not Soy Free.
Sugar and Cinnamon - Truly exceptional taste with just the right amount of sweetness and all the benefits of cinnamon.
Tomato Italiano - Bruchetta on a pumpkin seed. Tomato, basil, garlic, sea salt, pepper and a hint of onion combined to bring a great big flavor on little pumpkin seeds. Try some and think pizza.
"If you had asked me back in 2003 that I would be exhibiting SuperSeedz at the Winter Fancy Food Show and the Natural Products Expo West in California, I would not have believed it. It has been truly an amazing journey," added Kathie Pelliccio.
About Us:
Kathie's Kitchen, LLC is located in North Haven, Connecticut and produces a branded line of premium dry roasted shelled pumpkin seeds named SuperSeedz™ that provide consumers with a "Healthy Snack" alternative. SuperSeedz branded line of pumpkin seeds are Gluten Free, Peanut Free, Tree Nut Free, Soy Free, Dairy Free, Vegan and MSG Free. SuperSeedz come in eight delicious flavors including: Sea Salt, Super Spicy, Somewhat Spicy, Tomato Italiano, Original Curry, Coco Joe, Sugar & Cinnamon and Really Naked. SuperSeedz products come in 5 oz. bags and 1 oz. Grab & Go bags and are now available nationwide for Chain Supermarkets, Independent Supermarkets, Gourmet Food Stores, Club Stores, Convenience Stores, Drug Stores and Foodservice Operators. SuperSeedz is positioned to become America's Tastiest New Healthy Snack Food! For more information about SuperSeedz, contact Joe Pelliccio, Vice President of Sales & Marketing at 203-407-0546 or e-mail him at joe(at)superseedz(dot)com.