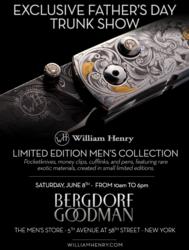 "Jamie and I love the knives. Truly the best gift I could have given her for her birthday" - Peter Facinelli, actor
New York City, NY (PRWEB) June 04, 2013
For the first time ever, the American luxury brand WIlliam Henry will be presenting its mesmerizing collection of men's accessories at Bergdorf Goodman. The exclusive one-day trunk show will take place on June 8th from 10 a.m. to 6 p.m. at the Men's Store, 5th Avenue corner of 58th Street, New York, and will feature a complete selection of William Henry's exquisite collection of functional jewelry: beautiful and award-winning pocketknives, money clips, pens, and cufflinks featuring the rare and exotic materials that are the hallmark of William Henry's work.
At a time when men's interest and purchases of jewelry grows at a faster pace than women's, the event organized with Bergdorf Goodman will allow customers to explore the new and original personality statements created by one of the very few luxury brands focusing almost exclusively on men.
On display and for sale, just in time for Father's Day, will be a collection of luxury accessories for men featuring fossil Dinosaur, Woolly Mammoth, exquisite forged metals, fine hand-engraving, gold inlaying techniques, and rare exotic woods.
About William Henry
William Henry is an American luxury brand devoted to the vision of designing and creating superlative functional jewelry. Designer and entrepreneur Matt Conable established the brand in 1997 creating exclusive and award-winning pocketknives, effectively transforming the archetype of all tools into a superb piece of functional jewelry for men. Today's collections include writing instruments, cufflinks, money clips, and golf tools.
The seamless integration of classic natural materials, precious metals & gemstones, and state-of-the-art alloys is a hallmark of William Henry's work. The brand creates limited editions only, and no two pieces are ever replicas.
William Henry's collections are available on its website and through a select network of authorized retailers in the U.S. and abroad.
For more info on WH, visit http://www.williamhenry.com.