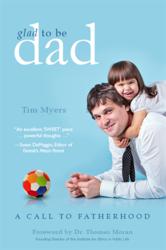 An excellent, 'SWEET' piece . . . powerful thoughts —Susan DeMaggio, Editor of Detroit's Metro Parent
SANGER, Calif. (PRWEB) June 05, 2013
Men from all walks of life will discover a realistic and inspiring guide to excelling in their role as "dad" in the new book Glad to Be Dad: A Call to Fatherhood (Familius, May 2013). Written by stay-at-home-dad Tim J. Myers, Glad to Be Dad shares the author's personal account of the challenges and rewards of committed parent involvement – all while staying focused on nourishing his marriage and learning the ins and outs of running a household.
Written for both new and veteran dads, Glad to Be Dad captures the profound and unexpected joys that come from being a committed father. According to Myers, "It's so much more than just surviving the parenting phase, it's about embracing the learning process and appreciating what fathering a child can do inside you to make you a better person. I could never have imagined all I have gained from going the extra mile for my family."
"An excellent, 'SWEET' piece . . . powerful thoughts . . . " —Susan DeMaggio, Editor of Detroit's Metro Parent
"I read [it] with pleasure" —David Remnick, Editor in Chief, The New Yorker
Glad to Be Dad helps ordinary men face the challenges of fatherhood with a mindset that sets them up for success in the most extraordinary chapter of their lives. It's the book that makes men want to be better, do better, and become the dad every child needs and the husband every wife wants.
About the Author: Tim J. Myers is a writer, songwriter, and professional storyteller living in Santa Clara, California, where he also teaches at Santa Clara University. Tim earned his master's degree in literature from the University of Wisconsin-Madison and has 32 years of teaching experience at the middle-school, high-school, and university levels. He's published eleven children's books (with one on the way) and over 100 poems. His notable works include Basho and the Fox, Dark-Sparkle Tea, Good Babies, and Basho and the River Stones. He won the 2012 SCBWI Magazine Merit Award for Fiction.
About the Publisher: Familius is a transmedia publisher who publishes for marriage, parenting, family fun, education, health and wellness, and children. The Familius mission is to help families be happy. We connect families with the books, e-books, videos, articles, and apps they need to build successful marriages and families. Let's Talk Family.
Book Details:
Title: Glad to Be Dad: A Call to Fatherhood
Author: Tim J. Myers
Publisher: Familius
Publication: May 2013, $17.95
Internet Marketing, ISBN 978-1-938301-01-8
6 x 9 trade paperback, Kindle, Nook, Kobo, IPad, ePub, 256 pages