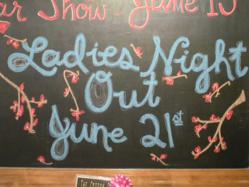 Wake Forest, NC (PRWEB) June 07, 2013
The Cotton Company is adding a regular Ladies Night Out event to the already exciting lineup of in-store events for the summer. The Cotton Company is already engaging the local community with an artist reception on the second Friday of every month during Art After Hours and are now adding a regular third Friday Ladies Night Out event.
The first installment of Ladies' Night activities will be June 21st. The Marketplace and Art Gallery will come alive from 5-8pm with vendors showcasing and demonstrating products to ladies, young and old. This Ladies' Night event will incorporate a Spa Theme called Midsummer's Night Dream. Ladies will enjoy free product demos, free refreshments, receive a free mini massage, learn about the art of henna temporary tattoos and get one themselves, and see what the new tinsel hair craze is all about, all while shopping the latest trends in summer accessories and ladies' fashion. In addition to all these fun things, ladies will have the chance for a photo op at our Facebook Photo Booth, so ladies come with your friends and get ready for a fun filled night.
The Cotton Company is a boutique marketplace and art gallery in the heart of Downtown Wake Forest. Supporting local businesses and local artisans by encouraging the entrepreneurial spirit. In-store events make the store a unique location that has truly become a shopping destination over the past 12 years. There is always something happening at The Cotton Company, be sure to stop by and enjoy shopping again.