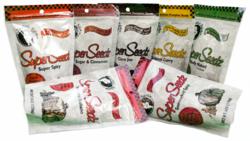 North Haven, CT (PRWEB) June 06, 2013
Kathie's Kitchen announced today that they will be introducing show attendees to America's tastiest new healthy snack at this summer's Fancy Food Show in New York City from June 30 – July 2, 2013. Come meet Kathie Pelliccio; entrepreneur, mother, grandmother and founder of Kathie's Kitchen and taste what all the excitement is about! Kathie's Kitchen produces a full line of branded SuperSeedz premium dry roasted shelled pumpkin seeds and perfects them into a powerful nutritional snack that is Gluten Free, Peanut Free, Tree Nut Free, Soy Free, Dairy Free, Vegan, Non - GMO and MSG Free.
"Offering healthy snack options that do not contain additives or preservatives are essential to providing good nutrition to consumers as well as supporting healthier eating habits," said Kathie Pelliccio founder of Kathie's Kitchen. "We care very deeply in helping consumers live a healthier lifestyle and providing them with a Healthy Snack alternative."
Kathie's Kitchen SuperSeedz branded premium pumpkin seeds are available in 5 oz. bags in the following eight delicious flavors:
Sea Salt - Just the right amount of crunch with a light unrefined Sea Salt seasoning added. Not too salty and great tasting…this SuperSeedz is taking America by storm.
Coco Joe - Just the right combination of high end French Cocoa, Vanilla, Sea Salt and a hint of Coffee to satisfy all chocolate lovers. This is a guilt free snack that is surprisingly low in sugar and big in chocolate taste.
Really Naked - A true testament to the great flavor of dry roasted and shelled SuperSeedz without seasoning of any kind. Completely sodium free.
Somewhat Spicy - Cayenne, Garlic and Sea Salt all combined to bring a truly addictive savory snack.
Super Spicy - An intense Habanero flavor with a Black Pepper surprise ending. Just the right amount of kick without too much heat. This is a fun flavor that will satisfy every heat seeker.
Original Curry - A great mild and subtle Curry blend that is not overpowering, yet memorable. Great out of the bag or on salads or in soups. Original Curry SuperSeedz is the only flavor that is NOT Soy Free.
Sugar and Cinnamon - Truly exceptional taste with just the right amount of sweetness and all the benefits of Cinnamon.
Tomato Italiano - Bruchetta on a pumpkin seed. Tomato, Basil, Garlic, Sea Salt, Pepper and a hint of Onion combined to bring a great big flavor on little pumpkin seeds. Try some and think pizza.
Come meet Kathie's Kitchen at the New York Fancy Food Show in the Connecticut State Pavilion located at Booth # 4864B. Kathie's Kitchen SuperSeedz will be included in the What's New…What's Hot Exhibit.
SuperSeedz branded line of premium pumpkin seeds can be found in such fine retailers as Big Y, Shoprite, Shaw's, Roche Brothers, Dave's Market, Stop & Shop, Fairway Stores, Stew Leonard's, Akins, Caputo's Freshmarkets, Gelson's Stores and Independent Stores.
About Us:
Kathie's Kitchen, LLC is located in North Haven, Connecticut and produces a branded line of premium dry roasted shelled pumpkin seeds named SuperSeedz™ that provide consumers with a "Healthy Snack" alternative. SuperSeedz branded line of pumpkin seeds are Gluten Free, Peanut Free, Tree Nut Free, Soy Free, Dairy Free, Vegan and MSG Free. SuperSeedz come in eight delicious flavors including: Sea Salt, Super Spicy, Somewhat Spicy, Tomato Italiano, Original Curry, Coco Joe, Sugar & Cinnamon and Really Naked. SuperSeedz products come in 5 oz. bags and 1 oz. Grab & Go bags and are now available nationwide for Chain Supermarkets, Independent Supermarkets, Gourmet Food Stores, Club Stores, Convenience Stores, Drug Stores and Foodservice Operators. SuperSeedz is positioned to become America's Tastiest New Healthy Snack Food! For more information about SuperSeedz, contact Joe Pelliccio, Vice President of Sales & Marketing at 203-407-0546 or e-mail him at joe(at)superseedz(dot)com.