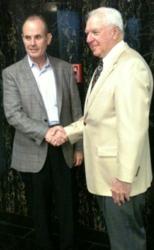 "Our expertise in Saint Louis matched with Sentry's operational excellence and technology is an unbeatable combination."
Orlando FL (PRWEB) June 06, 2013
Sentry Management, Inc., the leader in homeowner association and condominium management has announced the merger with West End Management and Leasing Services, Inc. of St. Louis MO. The new office will officially be renamed Sentry Management once the changeover is complete later in the year.
"Over the past two years and I have been discussing the benefits that we could each bring to the West End Clients by merging with Sentry," said Allen Yaffe, founder of West End. "I concluded that we were extremely compatible and together could provide better service to our clients. Our expertise in Saint Louis matched with Sentry's operational excellence and technology is an unbeatable combination."
"After talking to the great West End staff," said Howard Pomp, CEO and Chairman of Sentry Management, "I couldn't help but be impressed with their dedication to the job of managing properties and communities and the single-minded dedication to customer service. The great reputation that this organization has built in the St. Louis area is well deserved."
Allen Yaffe will continue as the leader of the Missouri Division becoming Vice President and Division Manager. Mr. Yaffe will actively manage all local operations and people. The West End employees will be retained and become Sentry employees. Over the coming months, Mr. Yaffe will combine the two companies' operations, software and procedures in a manner to ensure improved long term service to the associations we manage and the homeowner's who reside in them.
Offices will remain in Saint Louis County and the City of Washington MO. The main St. Louis office is located at 9666 Olive Boulevard, Suite 116, St. Louis MO 63132. The phone is 314-994-7440. StLouis.Sentrymgt.com. The Sentry Management St. Louis Division operates primarily in St. Louis, St. Charles and Franklin Counties and in the cities of Chesterfield, Creve Coeur, Maryland Heights, O'Fallon, St. Charles, St. Louis, St. Peters, University City, Washington and Wildwood.
Sentry Management is a national full-service community management company serving over 1,700 communities with over 300,000 homeowners. Sentry's business is the day-to-day operation of communities, homeowner associations and condominiums. Sentry is accredited as an AMO® (Accredited Management Organization) by the Institute of Real Estate Management, providing independent evaluation that Sentry has one of the highest operating and financial standards in the industry. Sentry operates in dozens of localities in Arizona, Florida, Georgia, Indiana, Maryland, Missouri, New Mexico, North Carolina, South Carolina, Tennessee and Virginia.