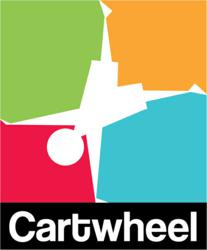 "By combining some of the top creative and marketing talent in the industry with a smaller, nimble, value-oriented organization, we're offering an entirely new model for development."
Los Angeles, CA (PRWEB) June 05, 2013
Toy and consumer products industry veterans Vince Klaseus, Len Mazzocco and Daniel Setton have launched Cartwheel Kids, an expanded proposition to Xcessory International, focused on bringing unparalleled creativity and innovation to the toy aisle and beyond. In addition to the quality, innovative dress-up product that Xcessory International currently develops, Cartwheel will design and manufacture a stunning array of toy products including boy's and girl's role play, preschool toys, figures and play sets, plush, seasonal, novelty items and more, that will debut in 2014.
Boasting a solid track record of success and decades of combined experience, the Cartwheel Kids executive team has already managed to capture the attention and trust of some of the best-known companies in the entertainment and toy industries. The company will be announcing key partnerships in the coming months.
Daniel Setton, founder and CEO of Xcessory International, serves as Chief Executive Officer. Vince Klaseus, former chief executive of Disney Consumer Products' Global Toys division, is leading the team as President, and Len Mazzocco, former SVP of Creative at Disney Consumer Products, is Chief Creative Officer.
According to Klaseus, Cartwheel Kids offers a unique proposition setting it apart from other companies.
"By combining some of the top creative and marketing talent in the industry with a smaller, nimble, value-oriented organization, we're offering an entirely new model for development," Klaseus said. "We're committed to driving innovation and building and extending brands in fresh, new ways."
Combined, the Cartwheel Kids team boasts decades of experience with many of the most iconic brands in history and has a proven track record of success in the toy and consumer products industries.
According to Klaseus, Cartwheel Kids' focuses on developing strong relationships and partnerships based on collaboration, mutual trust and creative solutions, making them a partner of choice. To best serve these partnerships, Cartwheel has also recently opened its Los Angeles office to complement the existing Xcessory International office in New York. "Our intention is to work with key partners and help them thrive," said Klaseus. "The ultimate goal, of course, is to inspire children's imaginations, enrich play in new and exciting ways and have fun a long the way…after all, we are in business of making toys."
About Cartwheel Kids
Cartwheel Kids LLC is wholly owned subsidiary of Xcessory International, and designs and manufactures unique and innovative playthings for children ages infant to tween including preschool toys, figures, play sets, plush, dress-up, role-play, seasonal and novelty items, and more. Led by a team of acclaimed industry veterans including Vince Klaseus, Len Mazzocco and Daniel Setton, Cartwheel Kids offers unparalleled expertise in product design and development as well as brand-building and franchise management.
Cartwheel Kids is committed to delivering quality toys rooted in imaginative play and storytelling, targeting parents and grandparents with both mass and mid-tier specialty offerings. For more information, visit http://www.cartwheelkids.com .