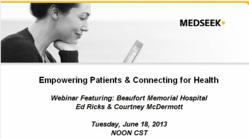 Birmingham, Alabama (PRWEB) June 05, 2013
Recognized as one of the nation's Most Wired Hospitals by Hospitals & Health Networks, Beaufort Memorial Hospital is empowering their patients and staff with the technology to participate in their health. MEDSEEK will offer a complimentary educational webinar featuring Beaufort Memorial's CIO and Marketing Director on Tuesday, June 18, 2013 at 12pm CDT to assist other healthcare organizations also interested in influencing patient behavior for a healthier community.
Healthcare executives, marketing, information technology, strategy and eHealth leaders are encouraged to attend.
This webinar will help you understand how to better:

Use strategic marketing to effectively promote services and appropriate care settings
Make the right patient portal buying decision for your organization
Apply predictive analytics for efficient patient outreach
Empower patients and families in their health
In the words of Ed Ricks and Courtney McDermott from Beaufort Memorial Hospital:
"Enhanced patient knowledge that results in proactive steps toward health is invaluable to our community," says Courtney McDermott, Director of Marketing.
"Meeting Meaningful Use is of course a priority for us," states Ed Ricks, CIO. "But what we're really after is technology that makes it easier for our patients to engage in their own healthcare and wellness. That was the key factor of why we chose MEDSEEK."
For those that are interested in the education but are unable to attend the live event, all pre-registered attendees will have access to the recorded presentation and a PDF version of the slides.
To register, visit http://www.medseek.com/about/events. As part of MEDSEEK's commitment to advancing digital health education, this event is provided at no cost. Attendees must register to participate.
About Beaufort Memorial Hospital
Beaufort Memorial Hospital opened in 1944 and is fully accredited by The Joint Commission, having a quality medical staff of more than 150 board-certified or board-eligible physicians. As the largest hospital between Savannah, Georgia and Charleston, South Carolina, Beaufort Memorial Hospital is committed to enhancing the health of the communities it serves. Beaufort Memorial Hospital has been recognized as one of the nation's Most Wired Hospitals by the Hospitals & Health Networks (HHN) publication for 10 years. Situated on the Atlantic Intercoastal Waterway, Beaufort Memorial Hospital is one of the few hospitals in the country with its own emergency dock.
About MEDSEEK
Since 1996, MEDSEEK has focused exclusively on building software to help hospitals and health systems virtually influence prospects and patients before and after a physical encounter. Today, the MEDSEEK Influence platform integrates web, mobile, social, predictive analytics and relationship management solutions to help organizations drive profitable volume, improve individual and population health, increase patient satisfaction and create lasting health-related loyalty. Birmingham, AL-based MEDSEEK is proud to serve over 200 customers representing over 1,000 hospitals including many of the top hospital systems in the United States and Canada.