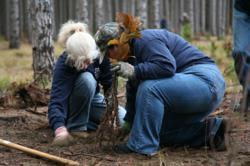 In 2013, Alcoa Foundation awarded $275,000 to American Forests in support Global ReLeaf restoration projects.
Washington, DC (PRWEB) June 05, 2013
On the United Nations World Environment Day, Alcoa Foundation and American Forests announce that through the Partnership for Trees Program, more than 175,000 trees will be planted across 19 global project sites this year.
The Partnership for Trees Program is part of Alcoa Foundation's commitment to plant 10 million trees by 2020, with five million trees planted to date. It is estimated that these trees will absorb 250,000 metric tons of carbon dioxide annually on average across their lifetime. In 2013, Alcoa Foundation awarded $275,000 to American Forests in support Global ReLeaf restoration projects. The reforestation projects meet a variety of critical goals, including restoring wildlife habitat, augmenting carbon storage via forests to combat climate change and using trees in the purification of water and air.
"Alcoa Foundation's partnership with American Forests Global ReLeaf is a key component of our global Ten Million Trees commitment, and we are excited to extend our collaboration and engage even more of our employees to reach our communities around the world," said Paula Davis, president, Alcoa Foundation.
Over the last three years, Alcoa Foundation and American Forests have worked together to enhance, beautify, restore and protect forests in 15 countries and nine U.S. states through 29 unique projects. Through the dedication of Alcoa employees, local communities and partners, more than 520,000 trees were planted in the first two years of the partnership.
From Iceland and Guinea to China and the U.S., the Partnership for Trees Program is helping to improve the local environment of a variety of diverse ecosystems by focusing on specific projects such as using forest cover to improve the health of salmon habitat in Washington, the beautifying of a park in England and the reestablishment of longleaf pine in South Carolina.
"Alcoa Foundation takes its responsibility as a corporate citizen seriously. We are delighted to be working with the Foundation and its employees again to plant hundreds of thousands of trees in projects around the world," said Scott Steen, CEO, American Forests. "Healthy forests are critical for a healthy planet, but they also increase quality of life for the people living in these communities. We at American Forests deeply appreciate Alcoa Foundation's ongoing partnership to help us plant millions of trees and restore forest ecosystems."
For a complete list of the 2013 Partnership for Trees Program projects, visit http://www.americanforests.org/partnershipfortrees.
About Alcoa Foundation
Alcoa Foundation is one of the largest corporate foundations in the U.S., with assets of approximately US$460 million. Founded 60 years ago, Alcoa Foundation has invested more than US$570 million since 1952. In 2012, Alcoa Foundation contributed more than US$21 million to nonprofit organizations throughout the world, building innovative partnerships to improve the environment and educate tomorrow's leaders for careers in manufacturing and engineering. The work of Alcoa Foundation is further enhanced by Alcoa's thousands of employee volunteers who share their talents and time to make a difference in the communities where Alcoa operates. Through the company's signature Month of Service program, in 2012, a record 60 percent of Alcoa employees took part in more than 1,050 events across 24 countries, benefiting more than 450,000 people and 2,050 nonprofit organizations. For more information, visit http://www.alcoafoundation.com and follow @AlcoaFoundation on Twitter.
About American Forests
American Forests restores and protects urban and rural forests. Founded in 1875, the oldest national nonprofit conservation organization in the country has served as a catalyst for many of the most important milestones in the conservation movement, including the founding of the U.S. Forest Service, the national forest and national park systems and literally thousands of forest ecosystem restoration projects and public education efforts. In the last two decades, American Forests has planted more than 44 million trees in forests throughout the U.S. and in 44 countries, resulting in cleaner air and drinking water, restored habitat for wildlife and fish, and the removal of millions of tons of carbon dioxide from the atmosphere. Learn more at http://www.americanforests.org or like us on Facebook at http://www.facebook.com/americanforests.