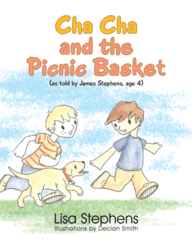 Brisbane, Australia (PRWEB) June 08, 2013
The Stephens children take their golden Labrador puppy Cha Cha on many adventures in a new eight-part series of children's books by retired teacher and full-time mother Lisa Stephens.
The fun starts straight away in the first book, "Cha Cha and the Picnic Basket," which tells the story of Cha Cha's first outing with young Harry and James—a picnic in the park—where he suddenly disappears. The second book, "Cha Cha and the Great Cricket Match," recounts the tale of a backyard cricket game in which Cha Cha forgets the rules and runs away with the ball.
Through the tales of Cha Cha and his young owners, children are able to learn the values of friendship, family and pet ownership. Told from the perspective of Stephens' children (four-year-old James in the first book and five-year-old Harry in the second), Cha Cha's stories are simple to read and include a rhyming scheme for easy retention.
"These are not simply books about a dog," says Stephens. "They are stories about the relationship that forms between a new puppy and two little boys, and the significance of this as it continues to develop and strengthen. Wonderful friendships come in many different forms."
Parents will find Stephens' new series not only entertaining and educational, but also full of value-based messages for children. Better still, $5 from every book sold within Australia goes directly to Guide Dogs Australia to assist in the training of future Guide Dog puppies.
Children can also follow this lovable Lab on social media and Cha Cha's own website.
For more information, visit http://www.chachaandfriends.com.
"Cha Cha and the Picnic Basket"
"Cha Cha and the Great Cricket Match"
By Lisa Stephens
Illustrated by Declan Smith
Hardcover: $30.00
Softcover: $20.00
eBook: $4.00
ISBN: 978-1-4797-8410-3 and 978-1-4836-1041-2
Available at http://www.amazon.com, http://www.barnesandnoble.com and http://www.chachaandfriends.com.
About the author
Lisa Stephens is a children's author, retired teacher, animal lover and community contributor. Most importantly, she is a full-time wife and mother to sons Harry and James (plus two dogs and a cat!). She spent many years teaching 5- to 12-year-olds both in physical education and the classroom, retiring permanently when her two sons entered upper primary school. Her book series following her beloved family pet—a golden Labrador Retriever named Cha Cha—is enhanced by her many experiences both teaching and raising young children. Stephens also supports Guide Dogs Australia, donating a portion of her book proceeds to the charitable organization.