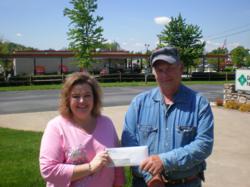 (PRWEB) June 06, 2013
Michael R. Morton, CEO of Carolina Farm Credit announces that Willard M. Buford, Jr. of Hendersonville, NC is the winner of the $2,500 door prize drawing held during spring 2013 customer appreciation events.
Carolina Farm Credit held an association-wide drawing for $2,500 during spring customer appreciation events in April to celebrate its 25th year of paying patronage to member-borrowers. "This is the 25th consecutive year we've paid a patronage refund. Since 1988, Carolina Farm Credit has declared patronage totaling more than $385 million to be paid to its member-borrowers through patronage refunds and retirements of allocated surplus," said Morton. "When we distribute our profits to our borrowers, it reduces their effective cost of borrowing," and it proves that there are distinct financial benefits in doing business on a cooperative basis."
Each of Carolina Farm Credit's 36 service centers held customer appreciation events during the month of April where patronage checks were distributed to members. One member was drawn from each service center to be entered into the association wide drawing for $2,500. Buford attended the Hendersonville service center's event where they had a barbeque and fried chicken dinner at Justice Academy. Buford's name was drawn as the winner from the Hendersonville service center and then drawn as the grand prize winner of $2,500.
Buford is a goat dairy farmer in Hendersonville. His farm, Vineyards Edge Dairy, consists of about 70 goats and 40 kids. The dairy has a booth at the Hendersonville Curb Market and in Saluda's Farmer's Market where they sell several types of cheese.
Carolina Farm Credit serves over 8,800 members with loans outstanding totaling more than $1.3 billion. The association's territory covers the western half of North Carolina, with service centers located in Albemarle, Asheboro, Asheville, Boone, Browns Summit, Burnsville, Carthage, Concord, Ellerbe, Graham, Hendersonville, Hillsborough, Jefferson, Lenoir, Lexington, Lincolnton, Marshall, Mocksville, Monroe, Murphy, Newton, Pilot Mountain, Roxboro, Rural Hall, Salisbury, Shelby, Siler City, Sparta, Spindale, Statesville, Taylorsville, Wadesboro, Waynesville, Wilkesboro, Yadkinville, and Yanceyville.
Carolina Farm Credit was recognized as a 2013 Best Employer in North Carolina. The list of the Best Employers in North Carolina was created by Business North Carolina, the Society for Human Resource Management (SHRM) – NC State Council and Best Companies Group. Carolina Farm Credit is the 5th Best Employer in North Carolina in the small to medium-sized company category.
Directors for Carolina Farm Credit are Joseph A. Lail, Chairman, Shelby; Mark A. Bray, Vice-Chairman, Lawsonville; John M. Barnard, Statesville; E. Bernard Beck, Seagrove; W. Rex Bell, Statesville; David M. Coltrane, Pleasant Garden; Susie J. Gambill, Sparta; W. Steve Love, Graham; Bobby J. "Bud" Matthews, East Bend; Clark M. Newlin, Haw River; Thomas E. Porter, Jr., Concord; Tony L. Ragan, Sanford; D. Kaleb Rathbone, Waynesville; Lewis E. Smith, Lincolnton; Vickie N. Smitherman, East Bend; L. Kim Starnes, Salisbury; Dr. Alton Thompson, Summerfield.