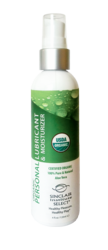 "Consumers are increasingly engaged and discerning when they shop for sexual health and wellness, and Sinclair's USDA Certified Organic lubricant is a fantastic chemical-free, paraben-free and pesticide-free product."
Hillsborough, NC (PRWEB) June 05, 2013
USDA Organic Certification by CCOF (California Certified Organic Farmers) guarantees that Sinclair Institute Select® Organic Lubricant and Moisturizer is manufactured with organic ingredients that have been grown and handled according to strict procedures without persistent toxic chemical inputs. Strict organic guidelines guarantee the ingredients are all-natural, paraben-free, and petrochemical free. By using 100% natural and organic ingredients, no harsh chemicals are introduced into the body.
"Our new USDA Certified Organic Lubricant has been in development for two years and we could not be happier with the formulation." Rebecca Cook, Director of Marketing, New Product Development and Wholesale Operations said. "Consumers are increasingly engaged and discerning when they shop for sexual health and wellness, and Sinclair's USDA Certified Organic lubricant is a fantastic chemical-free, paraben-free and pesticide-free product."
About Sinclair Institute
Since 1991, and with over 2.5 million happy customers, the Sinclair Institute® is the leading and most respected source for information, guidance and products focused on improving the quality of sexual health, intimacy and communication in relationships. Sinclair's Advisory Council is composed of the foremost sex educators, therapists, and researchers who help guide the development of Sinclair products and policies that reflect the concerns and needs of healthy individuals and couples who want to enhance their intimacy.
For wholesale information, contact Rebecca Cook rcook(at)sinclairwholesale(dot)com (888)736-2247