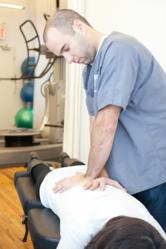 New York, NY (PRWEB) June 05, 2013
Dr. Steven Shoshany, regarded as one of NYC's leading chiropractors, is pleased to announce a terrific summer offer for new patients who suffer from sciatica.  During the entire month of June, Dr. Shoshany is offering complimentary reviews of patients' MRIs (a $350 value) in addition to personalized recommendations for the best course of treatment.  Patients who are experiencing low back and leg pain, as well as patients looking for a second opinion or who have previously undergone treatment (surgical or non-surgical) and are in search of stronger results are encouraged to take advantage of this amazing offer.
 
Dr. Shoshany will personally analyze and create a detailed report of patients' existing MRIs, which can be brought into the office or sent via fax or email.  Upon review, Dr. Shoshany will provide recommendations for treatment based on his professional opinion, backed by high success rates in the treatment of sciatica in NYC for the past 15 years.  There is no obligation, however Dr. Shoshany's services are available should patients choose to seek treatment at his state-of-the-art physical rehabilitation facility in NYC's NoHo neighborhood.
 
For the treatment of sciatica, Dr. Shoshany offers the latest advancements in non-surgical therapies.  Dr. Shoshany's exclusive techniques include spinal decompression which is a pioneering method of releasing pressure from the sciatic nerve through a computerized assisted device that literally decompresses the spinal discs in the back.  The computer aided spinal decompression program is designed to detect the patient's progress and update the system accordingly for optimum results, and monitors the process thousands of times per second.  Patients are gently and comfortably freed of pressure, pain, and spinal imbalances for long-term pain relief.  Additionally, chiropractic adjustments are safe, effective, and the foundation of Dr. Shoshany's practice. 
Chiropractic adjustments provide immediate relief and long-term benefits and can be applied on their own or in conjunction with spinal decompression, depending on the severity of the sciatica symptoms.  Soft tissue mobilization is a supplementary treatment offered by Dr. Shoshany that removes painful musculoskeletal adhesions that may worsen sciatica symptoms.  Dr. Shoshany is certified in Active Release Techniques® (manual soft tissue mobilization) and The Graston Technique® (instrument-assisted soft tissue mobilization).
 
To take advantage of Dr. Shoshany's complimentary MRI review offer, please contact his office at 212-645-8151 and mention the "free MRI review promotion".  During your call, the staff will answer any questions and provide instructions on how to submit your MRI at your convenience.  Dr. Shoshany will then contact you with his findings and recommendations.  This promotion is valid from until June 30th, 2013.
 
Dr. Shoshany is located at 632 Broadway, Suite 303, New York, NY 10012.  For additional information on Dr. Shoshany and his extensive range of non-surgical treatments for sciatica, please visit http://www.drshoshany.com.
 
ABOUT DR. STEVEN SHOSHANY
Regarded as one of Manhattan's top chiropractors, Dr. Steven Shoshany is an internationally-recognized as an innovator in the field of spinal decompression, being one of the first doctors to offer the revolutionary non-surgical treatment in New York City.  A graduate of Life University, Dr. Shoshany is certified in Active Release Techniques (ART) and has been successfully practicing in the downtown Manhattan area since 1999, where he currently resides with his wife and children.  For more information on Dr. Shoshany, please visit drshoshany.com.