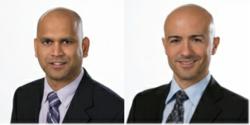 San Diego, CA (PRWEB) June 06, 2013
Kiran Analytics, a leader in predictive analytics for retail banks, announced two important promotions as the company continues to grow. Dr. Abhyuday Desai is promoted to Director of Analytics, while Kaan Kilinc is named Director of Software Engineering.
Dr. Desai has been with Kiran Analytics as the manager of analytics for six years. He is an expert in developing advanced mathematical models to solve resource and performance management problems in the financial services industry. His interests are in optimization, stochastic modelling, simulation, statistics, and forecasting. He will lead the predictive analytics team to further enhance workforce optimization and talent analytics capabilities.
Jim DeLapa, President of Kiran Analytics, said "Dr. Desai has created significant value for Kiran Analytics' customers for many years by understanding their business challenges and developing analytical solutions that address them. It is a pleasure to work with someone who consistently delivers breakthrough results to our most discerning clients."
Dr Desai has completed ground-breaking work in the fields of staff modelling and recruiting analytics for retail banks. He holds a Ph.D. in Industrial Engineering from Texas Tech University.
Another important leadership announcement at Kiran Analytics is the promotion of Kaan Kilinc to the role of Director of Software Engineering. Kaan brings over 15 years of experience developing forecasting, scheduling, and analytics applications. He was a senior software architect before being promoted to this leadership role.
"Kaan Kilinc has been a major contributor as a software architect and developer. He will be a key player in advancing our software team's capabilities with his leadership. Kaan's experience in taking a strategic vision and executing on that vision will strengthen Kiran Analytics' position as the industry leader," said Jim DeLapa, President of Kiran Analytics. He added, "Perhaps most importantly, Kaan is an excellent technical mentor to our team of developers."
Prior to joining Kiran Analytics, Mr. Kilinc worked for Verint, Witness Systems and Exametric--in each case a migration by way of acquisition. He earned his Bachelors of Science Degree in Electrical and Electronics Engineering from Bilkent University in Ankara, Turkey.
About Kiran Analytics
Kiran Analytics, has been a leader in innovative, predictive analytics solutions for two decades. Today, Kiran's Enterprise Talent Analytics and Workforce Optimization solutions are used by over 10,000 bank branches. Kiran Analytics creates significant value for its customers by increasing workforce productivity, hiring better talent faster, reducing costs, and optimizing operational performance. Visit the company website at http://www.kiran.com.