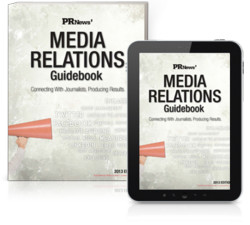 Rockville, MD (PRWEB) June 05, 2013
In the must-read Media Relations Guidebook, top communications experts explore some of the most innovative developments in media relations. These include the technologies, methodologies and mannerisms that define the ecosystem in which PR professionals practice their craft.
The Media Relations Guidebook is available at http://www.prnewsonline.com/media-relations-guidebook-vol-1/.
With the emergence of social media, there are interesting opportunities to engage and remain in-touch with influencers, whether they are reporters working for traditional media brands or up-and-coming bloggers. This guidebook breaks down how to effectively locate and engage these journalists who can extend the reach of a story to a greater audience.
Media Relations Guidebook chapters include:

Overview
Building Relationships
Pitching the Media
Social Media Relations
Messaging
Measurement
Crisis Management
Case Studies
The best chance of succeeding in media relations these days will result from taking the proven principles of the past and overlaying them with today's technologies to create a genuine sense of trust and authority between PR executives and media representatives. The market demands it, and the Media Relations Guidebook helps deliver it to communications professionals.
Print and digital versions are available at http://www.prnewsonline.com/media-relations-guidebook-vol-1/.
PR News' Media Relations Guidebook is an essential resource for PR professionals at any organization. This guidebook delivers a comprehensive look at how to navigate the dynamic field of media relations.
Contact Laura Snitkovskiy at laura (at) accessintel (dot) com with any questions regarding this guidebook.
The PR News family of products also includes the weekly PR News publication, The Digital PR Summit, Media Relations Forum and PR Measurement Conference, PR Webinars and Workshops, PR Guidebooks, Platinum PR Awards, PR People Awards, Nonprofit Awards, 15-to-Watch and more. Visit PR News online at http://www.prnewsonline.com