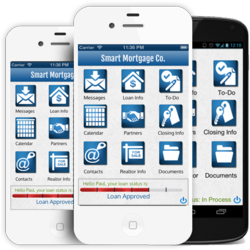 Swampscott, MA (PRWEB) June 05, 2013
Easy Mortgage Apps LLC (EMA), a Massachusetts company which develops state of the art mobile apps specifically and uniquely designed for the mortgage lending industry, is pleased to announce they have entered into a joint marketing agreement with the Florida Association of Mortgage Professionals (FAMP). EMA will offer FAMP members a discount on their private label software. The software allows lenders to greatly enhance the overall customer experience by engaging their realtors, consumers and relevant entities with real time communication, loan information and updates. Carl A. Noriega, President, Florida Association of Mortgage Professionals states: "The FAMP is always looking to partner with companies who offer technology as a way to augment the lending process resulting in an enhanced experience for consumers. EMA LLC truly understands the lending industry and this mobile app offers solutions to many of the issues within the ecosystem."
Built in business logic utilizes push notification technology to update parties regarding loan status changes, loan commitment requirements and important milestone dates. All pertinent loan data, contact information and a secure messaging portal are available with a single touch. In addition, the software offers clients a user friendly interface which allows for mobile capture technology, data sharing and storage through a secure portal. This program was written and created to improve efficiency and productivity, reduce latency, and increase time to revenue.
As cofounder Michael Kelleher states: "We are truly excited to work with a forward thinking association who recognizes we are in the midst of a behavioral shift. This is an additional opportunity for their national constituency to directly benefit from membership. EMA feels associations, such as the FAMP, are essential in the development and advancement of the mortgage lending industry."
Please visit http://www.easymortgageapps.com/FAMP to learn about new exciting discounts.