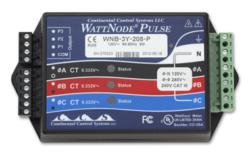 BOULDER, Colo.
(PRWEB) June 05, 2013 -- Affordable Out-of-the-Box Solution With Cloud-Based Meter Data Management and Analytics Combines Lucid's BuildingOS™ Software, Obvius AcquiLite™ Data Logger, and Continental Control Systems WattNode® Energy Meter and Revenue-Grade CT
Continental Control Systems announced today that its WattNode® energy meter has been chosen by Lucid as part of an all-in-one building energy monitoring package. The out-of-the-box solution includes Lucid's BuildingOS™ software, an Obvius AcquiLite™ data logger, and a Continental Control Systems WattNode® energy meter and accompanying current transformers. Sold by Lucid to buildings, manufacturing facilities, and campuses, the bundled hardware and software components provide real-time access to energy consumption information from the convenience of any Web-connected device.
To track energy expenses, facility managers are increasingly looking to bring visibility to energy use pattern, better understand point-of-use, and ultimately reduce consumption. However, installing and implementing a building automation system can be expensive, especially for a multisite or a multitenant space. Lucid's all-in-one monitoring solution provides a powerful and cost-effective alternative.
What is unique about the package is how Lucid is taking the solution to market. Unlike traditional energy management systems, which come with a significant integration cost, Lucid has built support for zero-cost Connect Now™ do-it-yourself integration within BuildingOS. The system's plug-and-play Obvius AcquiLite data acquisition server collects and logs energy data from Continental Control Systems' WattNode energy meter and pushes it to Lucid's cloud service for online access via the BuildingOS platform.
The integration is as simple as entering the serial number of the metering package the user wishes to connect with BuildingOS, and clicking the Connect Now button. The combined solution makes it easy to identify inefficiencies and track energy efficiency efforts at a cost that insures a rapid ROI.
"Delivering a sub-$1,000 all-inclusive metering package with zero integration cost unlocks opportunities for delivering real-time interval data and analytics to some very large portfolios where a more expensive solution would be unable to scale," said Vladi Shunturov, Lucid's chief technology officer.
"The high accuracy and low price point of our WattNode energy meter and CTs were key factors in Lucid's selection for this combined solution, and we couldn't be more excited to have our products working side by side with the Obvius acquisition server and Lucid's BuildingOS software," said Cynthia A. Boyd, director of sales at Continental Control Systems. "Whether it's for a single facility or an entire network of buildings, Lucid's all-in-one energy monitoring solution is a powerful tool to measure, collect, and retrieve energy data from anywhere both effectively and economically."
About Lucid
Founded in 2004, Lucid is a privately held software company and a pioneer in providing real-time information on energy and water use delivered via the web. Lucid's BuildingOS® is used in thousands of facilities across North America.
About Obvius
Obvius is a leading energy solutions provider offering data acquisition and monitoring technologies used to manage energy usage and renewable energy generation. Founded in 2002, Obvius is located in Hillsboro, Oregon. Obvius serves a global clientele and continues to drive innovation by simplifying data collection and connectivity.
About Continental Control Systems
Founded in 1995, Colorado-based Continental Control Systems specializes in electric power metering and monitoring equipment. The company's solutions are designed to provide key electrical system measurements including power (kW) and energy (kWh) through a variety of communication protocols including BACnet®, Modbus®, and LonWorks® or as pulse outputs.
All trademarks appearing herein are the property of their respective owners.