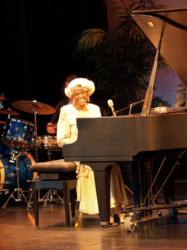 Foundation of the Arts, a not-for-profit corporation, was Lillette's answer to dwindling arts programs throughout the country
Clearwater, FL (PRWEB) June 05, 2013
"Sharing Our Blessings," an upcoming fundraising event benefitting performing arts education, will be held on Saturday, June 15. Guests will witness a musical performance by the great Lillette Jenkins-Wisner, a notable concert pianist and vocalist whose talents have taken her to Broadway and Hollywood. All proceeds will go to Lillette's Foundation of the Arts, which she established to foster the talents of performing arts students while also meeting their financial needs. The fundraiser will be held at the historic Fort Harrison (210 S. Fort Harrison Avenue) in downtown Clearwater at 5:30 PM.
During her decades-long career, Lillette Jenkins-Wisner has shared the spotlight with many veteran artists such as Louis Armstrong, Lena Horne and Eubie Blake – her musical prowess also earned her the moniker, Queen of the Keys, by the great Nat King Cole. At 89 years old, she still performs classical, gospel, ragtime and jazz, uplifting audiences everywhere. After experiencing firsthand the joys performance can bring and recognizing the benefits of offering hope to aspiring young performers, Lillette formed Foundation of the Arts in 2005.
Foundation of the Arts, a not-for-profit corporation, was Lillette's answer to dwindling arts programs throughout the country; the organization's main source of funding is through fundraisers in which Lillette displays her musical capabilities. Looking to bring her talent to the Tampa Bay area, she took advantage of the opportunity to perform in "Sharing Our Blessings" – throughout the evening, she will be accompanied by the harmonies of Au' Niece, a dynamic vocal duo comprised of her daughter, Michele Harris-Carter, and granddaughter, Toni Stargell.
"Sharing Our Blessings" is one of many fundraisers sponsored by the Church of Scientology in an effort to boost humanitarian efforts in the Tampa Bay area. The Church believes that "Sharing Our Blessings" could bring a great impact to the Foundation of the Arts and feels passionately that children should have every opportunity to develop their talents.
Tickets are $50 for general seating in advance, and $60 for VIP seating. Dinner will be served. To purchase tickets, please go to http://www.fame-prqueenfilms.info.
About Lillette Jenkins-Wisner
Lillette Jenkins-Wisner is a concert pianist, vocalist and philanthropist. She is the Founder & CEO of Lillette's Foundation for the Arts, a not-for-profit organization that provides financial assistance to performing arts students. Throughout her decades-long career, Lillette shared the spotlight with artists such as Cab Calloway, Duke Ellington, Louis Armstrong, Sarah Vaughn, Lena Horne, Eubie Blake, and Billy Joel. Her musical career extends from her days as a child protégé in New York, to military USO tours, continuing into film (The Cotton Club) TV (All My Children), Broadway and worldwide concerts. Today, Lillette still performs Classical, Gospel Ragtime and Jazz, delighting audiences everywhere. For more information about Lillette Jenkins-Wisner, visit http://www.lillettesfoundation.webs.com/.
About The Fort Harrison
The Fort Harrison has served as a hub for the Tampa Bay community since the 1920s and continues to do so today. In addition to the Scientologists who avail themselves of the religious retreat's accommodations, restaurants and amenities while in Clearwater for religious services, the community at large also enjoys the Fort Harrison. Hundreds from across Tampa Bay gather for Open House brunches and community events, such as the Sunscreen Film Festival "Broadway and Beyond" concert, Harlem Nights Jazz Festival and other benefits for the arts. Couple that with the dozen or more interested people who simply walk in every day for a tour and it is clear the Fort Harrison is, as it has always been, a home for Clearwater. For more information, visit http://www.scientology.org/churches/flag-land-base/fort-harrison.html.