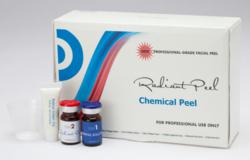 It's great for busy women and men who want to look younger without an extensive cosmetic treatment.
Carlsbad, CA (PRWEB) June 05, 2013
Axia Medical Solutions, the maker of the popular anti-aging skin care line Dermesse, has introduced a new treatment to their physician-administered product line. It is called the RADIANT PEEL, and it includes a combination of TCA, Salicylic Acid, Lactic Acid, Phenol, and other natural exfoliating agents.
"Our new RADIANT PEEL is a medium-depth peel," said Axia CEO Jim Krulisky. "By removing the outermost skin layer, it stimulates regeneration of new skin cells, while also promoting the growth of collagen and elastin."
The RADIANT peel also includes a 1% Retinol cream that acts as a "booster" to the peeling process. Patients achieve results in one week and typically see an improvement in skin tone, wrinkles, fine lines, skin firmness and skin texture.
Because it is a medium-depth peel with minimal downtime, the RADIANT PEEL is very convenient. "It's great for busy women and men who want to look younger without an extensive cosmetic treatment," said Krulisky. All skin types and skin colors can benefit from the peel, which can be applied to the face, hands, or chest.
After treatment with the RADIANT PEEL, patients can use the post care kit provided by Dermesse in the convenience of their homes.
About Dermesse by Axia Medical Solutions, LLC
Axia Medical Solutions is a global specialty pharmaceutical company that develops, manufacturers, sells, and markets skin care products to medical professionals specializing in dermatological, aesthetic, and cosmetic procedures. These target markets are served through a combination of professional field sales representatives, distributors, and technical consultants. All of the products exhibit superior performance, are manufactured to the highest standards, and are compliant with all FDA and cGMP requirements.
Axia is committed to providing superior support to the physicians served and their staff by offering unparalleled customer service. It is the goal of all Axia employees to treat customers as business partners and to establish long term and mutually successful business relationships.