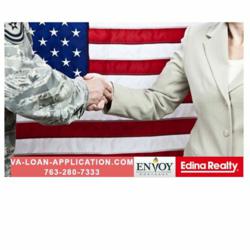 The site is super quick and simple to use
Minneapolis, MN (PRWEB) June 05, 2013
Rachel Dunham of Envoy Mortgage launched the VA Loan Application website this morning to help veterans check their loan eligibility. "The site is super quick and simple to use," Dunham said, and continued, "It gives veterans the confident first step they're looking for." On the website, veterans can apply for Home Purchase Loans or Home Refinance Loans.
Envoy Mortgage, a VA approved lender, is one of the leading VA Home Loans providers in the state of Minnesota, and "we're proud to be able to give such a practical resource to our veterans." Veterans and their families can also check out the VA Home Loans MN Facebook Page that was recently launched as well to say up to date on loan and application information.
On the website's main page veterans will find a short form to fill out where they can select which type of loan they are applying for and how much the loan will approximately be. After filling in some contact information and submitting the form veterans will know what they're eligible for. "If veterans are looking for where to start, this website is their best option," Dunham said.
For more information call Rachel and her team at (763) 280-7333 or visit the Minnesota VA Loan Application website to determine eligibility today.