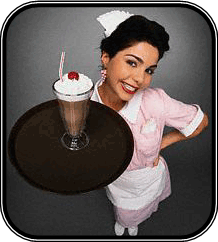 Although our waitress weighs 120 pounds, she punched the 260-pound man so hard she dislocated his jaw…
Anchorage, Alaska (PRWEB) June 04, 2013
Lynne Curry, Ph.D., SPHR (CEO of The Growth Company, Inc.) has over 30 years of experience in management consulting and frequently receives questions from clients regarding situations in the workplace. Today, Dr. Curry releases an article directed toward employers that have encountered violent situations amongst employees and customers.
Dr. Curry received this message from a client, "One of our restaurant's waitresses got upset with a customer and socked him. Although our waitress weighs 120 pounds, she punched the 260-pound man so hard she dislocated his jaw…If the customer had been significantly out of line we would have backed our waitress. But he wasn't, and so we terminated our employee. We thought this would be the end of it, but this morning we received a letter from the customer's attorney saying our restaurant owes him for his medical expenses, his pain and suffering and five years of chiropractic treatment, as the jaw sock aggravated his prior whiplash. Because we did the right thing and fired this waitress, are we in the clear? Can we handle this ourselves by calling the attorney and saying this employee no longer works for us, or do we have to take this letter more seriously and get an attorney?"
Read on to find out how Dr. Curry responds!
Click here to read the full article.
The Growth Company, Inc. is a Human Resource and Management consulting firm specializing in soft skills training, facilitation and mediations as well as investigations, coaching and manual/policy write ups and re-writes. The Growth Company, Inc. was established in 1978 and is one of the longest lasting consulting firms in Alaska. For further information about The Growth Company or Dr. Lynne Curry click here. The Growth Company also has a Workplace Coach Blog, where Dr. Lynne Curry and other HR professionals post about everyday situations that a manager or supervisor may come across. They provide insight and the correct way to approach and handle these situations.