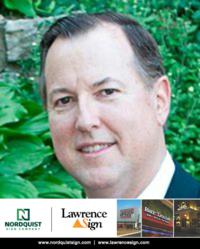 St. Paul, MN (PRWEB) June 05, 2013
Lawrence Sign is pleased to announce the addition of Walter Ruden as Senior Account Executive. Walter brings nearly 15 years of sign industry experience and 30 years of sales and management experience. He will be serving national accounts, global brands, and overseeing large projects.
"I want to provide the best technical and creative sign solutions for the major brands that Lawrence Sign serves," said Walter during a recent interview. "My project management experience, commitment to quality, and attention to customer satisfaction will ensure the best results for our clients; delivering quality products on time and on budget."
Walter will manage all facets of sign projects including technical surveys, permitting, sign fabrication, shipping, logistics, sign removal, building restoration, electrical and signage installation. As a leading industry veteran, Walter's experience with each of these areas is expansive. Examples of Walter's past work include management of the Bank of America sign reimaging at almost 300 locations in California and the Wells Fargo/Wachovia merger complete rebranding in Virginia.
Prior to joining Lawrence Sign, Walter worked at Sign Productions as a Senior Project Manager and Detec Systems as National Sales Manager. Walter holds a BS in Business from Cameron University and an MBA from Drake University. He is also a member in good standing of the International Sign Association and will be serving Lawrence Sign clients from Edmond, Oklahoma.
"Having Walter join our team presents a significant opportunity for both Mr. Ruden and Lawrence Sign," said Robb Walker, CEO of Lawrence Sign. "Walter's substantial industry experience with sign systems, sales, branding, and large project management will be a tremendous asset for our team and our clientele."
"I look forward to becoming a part of the Lawrence Sign team," added Walter. "They value customer relationships and the importance of delivering a quality product on time and within budget. I know they will serve my past clients as well as my new clients in this same manner. This was the single greatest factor in my decision to join Lawrence Sign."
Walter Ruden wants to help your business grow and is available for consultation on your next sign project. He can assist with ideation, sign solutions, and will guide your team through to a completed sign project of which you will be proud. Walter can be reached directly at (651) 488-6711 or via e-mail wruden(at)lawrencesign(dot)com.
About Nordquist Sign & Lawrence Sign
Headquartered in St. Paul, Minnesota, Nordquist Sign (founded 1904) & Lawrence Sign (founded 1929) design, fabricate and install custom signs for almost every industry servicing local, national and international clientele. With over 100 years of experience, the Companies have created sign, branding and environmental graphics solutions for a wide range of applications. Time-tested sign artisans, advanced technologies, and expansive facilities provide direct in-house control of the entire sign fabrication process.
In early 2012, Lawrence Sign made the strategic decision to expand the Company's resources and capabilities with the acquisition of Nordquist Sign of Minneapolis. Nordquist Sign represented a century-old brand focused on specific market segments within the sign industry. The resulting synergies of the merged companies provide significant growth opportunities across broadened markets.
For more information:
(651) 488-6711 • (800) 998-8901 • http://www.nordquistsign.com • http://www.lawrencesign.com
info(at)nordquistsign(dot)com • info(at)lawrencesign(dot)com