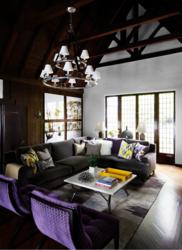 Through some magic, she figured out what the better, more stylish me would want and presented several beautiful options.
San Francisco, CA (PRWEB) June 05, 2013
The only thing this gorgeous Tudor-style Berkeley Hills home needed to enhance its living room's stunning views of the San Francisco Bay was a fresh update from Oakland interior designer Kristina Wolf, who recently accepted, and completed, the challenge of changing several styles and crossing many design boundaries to create a savvy living space to unwind.
Photos of the project, taken by professional photographer Brad Knipstein, were just released and posted to Kristina Wolf Design's Facebook page. They show each detail of the room working in concert to effortlessly combine "fun and savvy" with "cozy and warm" styles – something the design team says made the project so special.
"Our client needed a room that was updated in a sophisticated and modern way, but still remained comfortable and pet-friendly," says Kristina Wolf. "We chose colors, textures, lines and pieces that meshed these two styles together and we couldn't have had more fun doing it. Our client was very happy and the entire project was such a great experience."
The Kristina Wolf Design team helped the client, Susan, move from a "conservative ranch" interior to a new modern home by helping her realize her own unique vision.
"I'd say that Kristina read my mind about the style and vibe I wanted, but that would be giving me too much credit," said Susan. "Through some magic, she figured out what the better, more stylish me would want and presented several beautiful options."
Kristina chose deep, sultry colors and modern furniture with clean lines made from organic materials such as wood. The modern living room showcases a charcoal gray sectional from Taylor Scott, a unique cocktail table from Artifacts, rugs from Jaipur, gorgeous tufted chairs from Duralee, and fabric from Schumacher.
Each of these pieces combines seamlessly with the other for a breathtaking effect. Geometric patterns, animal print rugs, fur throws, wood and leather chairs, a sharp sectional and clean coffee table create the perfect place to come home and unwind at the end of a busy day.
"I am in love with the final room," said Susan. "It has a definite wow factor. And through the process I came to like and admire Kristina so much that I consider her a friend."
To see pictures of this recent project, visit Kristina Wolf Design on Facebook.
For more information regarding East Bay interior design, or to schedule a consultation for commercial interior designs or home interior designs, call Kristina Wolf Design at (510) 848-8773 or visit kristinawolfdesign.com.
About Kristina Wolf Design:
Kristina Wolf Design is an East Bay interior decorator serving the Oakland Hills, Piedmont, Lafayette, Orinda, and Lamorinda. Located in Berkeley, CA, the team of designers is composed of experienced commercial and modern interior designers.
Kristina Wolf Design is a top interior designer in the Bay Area that creates memorable interiors in harmony with each client's personal vision, with minimal stress. Whether it's developing new home interior designs or helping clients select the perfect color palette for a paint project, Kristina Wolf Design deepens the connection between customers and their home, while honoring clients' objectives, schedules, and budget.