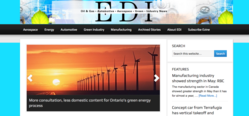 Orders for exports rose to their highest level in almost a year, thanks to improving conditions in key export markets, especially the United States.
Toronto, Ontario (PRWEB) June 05, 2013
EDI Weekly, the concise digest of industry's most compelling news and events, reports that Canada's manufacturing industries experienced growth in a number of key areas in May. Output increased for the first time in three months, the result of greater numbers of new orders. Orders for export goods hit their highest level in eleven months, and employment rose for the sixteenth consecutive month. In Ontario, the province's official Green Energy Act was recently given a setback when it was found to be in violation of international trade agreements at the World Trade Organization. The provincial government promises to allow more openness in sourcing suppliers, and to be more consultative in future when building wind farms. And a new car that flies is certain to make heads turn. The latest industry news in brief at EDI Weekly.
"Manufacturing industry showed strength in May"
A monthly survey of Canada's manufacturing purchasing managers shows that May saw growth in all the key areas measured. Employment was up for the eighteenth consecutive month. Manufacturing output increased for the first time in three months, with production reaching its highest level since June of 2012. Orders for exports rose to their highest level in almost a year, thanks to improving conditions in key export markets, especially the United States. Another indicator, the number of backlog orders, also rose, as manufacturers rushed to fill outstanding orders, leading to increased hiring. New job creation reached the highest level in nine months. Read more about manufacturing here.
"More consultation, less domestic content for Ontario's green energy process"
Japan and the European Union brought a complaint to the World Trade Organization, claiming that Ontario's Green Energy Act discriminated against foreign suppliers by requiring 60 per cent of materials used in constructing wind and solar installations to be of domestic origin. The WTO agreed and ruled that Ontario was breaking international law. Now Ontario's government says it will comply with the WTO's ruling and make its procurement process more competitive and open. It will also try to disarm opponents of wind farms by creating a more consultative process, engaging with municipalities before deciding where installations should be located. Read more about it here.
"Concept car from Terrafugia has vertical takeoff and landing"
The company that introduced the first transition car, the one that converts from a car to an aircraft in about sixty seconds, now has an even more futuristic model. It is still in concept stages, but the company is confident that it will be taking off from driveways all over America in about a dozen years. The distinguishing feature about this model is that, unlike the earlier model, it does not require a runway. With a level area of about 100 metres in diameter, the Transition can take off vertically. The propellers that lift it off fold away when the craft reaches cruising altitude, and a rear-mount engine provides the thrust to fly it. It will have a range of about 800 kilometres and a cruising speed of 320 km/h, its designers say. Read more about it here.
About EDI Weekly
EDI Weekly is your digest of industry news from around the world. We cover

Aerospace industry
Automotive industry
Green and environmental technologies industry
Energy industry including oil & gas
General manufacturing innovations and news
EDI Weekly is published by Zines Online, on behalf of Daemar Inc, a service of Persona Corp.