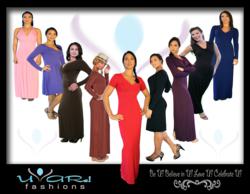 We need inspiration and true fearlessness to follow our dreams!
Orlando, FL (PRWEB) June 05, 2013
Every business starts with a vision and a dream. Anissa Rogers recently resigned stable employment (in an unstable economy) to pursue her dream of entrepreneurship! Anissa is not a college graduate living at home with parents trying to discover herself through experimentation. Meaning, she does not have the luxury of years to waste. Anissa is a 42 year old African American woman, wife and mother, who for the past 25 years worked in Corporate America.
When asked what encouraged her to establish U ARe! Fashions, Anissa answered two words, "Well Learn."
Anissa tells us U ARe! Fashions actually started with an idea to create t-shirts. One day, about 3 years ago, Anissa told her husband Kenny how she would love to design a line of custom t-shirts for women that when worn would make them feel so beautiful and confident. Kenny's reply to Anissa, "then, I think you should do it" sparked the retort,"but I don't know how to sew." Anissa tells us that she will never forget the impact of the next two words spoken from her husband: "Well learn." That moment was the start of an incredible development, not just of U ARe! Fashions clothing line, but of who Anissa is as a person and her purpose to inspire women thru the platform of fashion.
Anissa states, "We need inspiration and true fearlessness to follow our dreams. U ARe! Fashions promotes a message of discovery and celebration for women of all ages. I hope my story of faith will inspire others to discover who they are and pursue their passions and dreams. The goal is to reach a wide audience with this message thru a common interest, fashion."
U ARe! Fashions' clothing line is currently available for retail purchasing at http://www.uarefashions.com. Anissa is also seeking retail and boutique buyers interested in wholesale purchasing. 2013 Lookbook is available for viewing at http://www.uarefashions.com.
Contact:
Anissa Rogers
Email: Uarefashions(at)outlook(dot)com
Phone: (407) 580-0883
Website: http://www.uarefashions.com