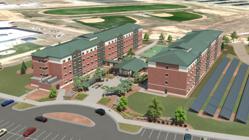 The energy efficiency initiatives on this project will continue to provide long-term operating cost savings.
Fort Carson, CO (PRWEB) June 05, 2013
The US Army Corps of Engineers has selected Mortenson Construction and HDR Architecture for a $94.9 million design-build contract for the 13th Combat Aviation Brigade Barracks at Fort Carson, Colorado. Designed to maximize building energy efficiency by preparing to adapt to net zero energy use, it will create a lively and livable military residential community for nearly 1,000 soldiers who will call it home.
Comprised of a 370,156 gross square-foot complex, the new construction will provide three apartment buildings. A one-story glass pavilion links each pair of four-story buildings. The loft-like glass lobby offers a visual connection between the landscaped entrance plaza in the front and the sports and activity courtyard in the back.
The Mortenson/HDR design-build team pushed the sustainable design envelope to a new level and is committed to achieve LEED® Gold certification from the U.S. Green Building Council (USGBC). Sustainable design features include:

A consolidated energy plant for the entire complex
East-to-west building orientation
Solar walls in the building façade to harvest solar energy
Solar hot water panels to provide 30% of domestic hot water consumption
Solar PV arrays to offset 24.8% of the annual energy consumption of a baseline building through onsite generation
Energy efficient radiant floor for all apartment units, sunshades for all window openings and a highly efficient MEP system
These sustainability practices will support Fort Carson as it moves toward a net zero energy, water and waste installation.
"We're excited to help satisfy both the Corps' short-term and long-term goals. The energy efficiency initiatives on this project will continue to provide long-term operating cost savings," said Maja Rosenquist, vice president and general manager of Mortenson's Denver office.
To further reduce cost and schedule, Mortenson will install prefabricated bathrooms and kitchens in each unit for a speedy "plug and play" operation. Other features of the facility will include courtyard areas with basketball courts, picnic tables, and grills for the soldiers to relax and unwind.
Construction is expected to begin in August and complete in January 2015.
Other major design-build team partners include RMH Group, SE Solutions, Nolte Vertical 5, Leo A Daly, Design Collaborative, Rimrock, Rader Network and HPE.
About Mortenson Construction
Serving Colorado for more than 30 years, Mortenson Construction is a U.S.-based, family-owned construction company. Founded in 1954, and recognized as one of the nation's top builders, Mortenson provides a complete range of services, including planning, program management, preconstruction, general contracting, construction management, design-build, and turn-key development. Mortenson has offices in Denver, Minneapolis, Seattle, Milwaukee, Chicago, Phoenix and Portland with international operations in Canada and China.
About HDR
HDR Architecture http://www.hdrarchitecture.com was named the No. 1 firm in Building Design + Construction's Science + Technology sector rankings in 2012, and has designed over 200 million square feet of science + technology space for clients worldwide. HDR has unparalleled expertise across the spectrum of converging fields of life sciences, physical sciences and engineering.
HDR has endorsed the "Architecture 2030 Challenge," an initiative designed to achieve a dramatic reduction in the greenhouse gas (GHG) emissions by changing the way buildings and developments are planned, designed and constructed.