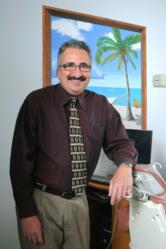 Monroe, CT (PRWEB) June 04, 2013
Monroe periodontist Dr. Richard Amato now treats patients who have gum disease with the Laser Assisted New Attachment Procedure (LANAP). Gum surgery is often the first step in helping patients in Trumbull, Shelton and Monroe area qualify for dental implants. Using LANAP, Dr. Amato eradicates the diseased gum tissue and prepares the mouth for dental implants, which provides a secure method of tooth replacement.
Gum disease is a common problem and many people have lost teeth because of advanced periodontal disease. However, with laser gum surgery even those patients in Fairfield and New Haven County with advanced gum disease can become good candidates for dental implants. Monroe periodontist Dr. Amato provides his patients with the most advanced technology to eradicate their gum disease. LANAP is over 95 percent effective in cleaning diseased gum tissue, and it can actually help regenerate bone growth and density. This allows Dr. Amato to securely place a dental implant into a patient's jawbone, which allows patients with missing teeth to enjoy a beautiful smile once again.
Dental implants also offer a long-term solution to missing teeth. Unlike a denture or a bridge that can often need replacement, an implant can last for 20 years or more. The actual implant is made to last a lifetime; however, the crown may need replacement at some point. Made from titanium alloy, dental implants actually fuse with the bone after being surgically inserted, which means bone loss is very rare. Tooth decay or root canal treatment will never happen with a titanium implant.
Implants are designed to look and feel like natural teeth, and they are made to remain in place at all times, especially when one eats or talks. Keeping an implant clean is also very similar to keeping natural teeth clean. A person should still brush and floss daily and see a dentist regularly. Those interested in learning more about dental implants and how LANAP can help make implants possible can visit http://www.connecticutperiodontist.com.
About The Doctor
Dr. Richard Amato is a periodontist who has provided the most advanced technology for personalized dental care to patients in Monroe, Connecticut. He has placed thousands of dental implants for his patients since 1989. Dr. Amato graduated first in his class with a Doctorate of Dental Surgery degree from Stony Brook University. Dr. Amato then completed a full time multi-year specialty residency and received his Certificate of Proficiency in Periodontics from Eastman Dental Center at the University of Rochester. He is part of one percent of dentists in the USA providing the most recent FDA cleared laser procedure for gum disease treatment. To learn more about Dr. Amato and his cutting-edge services visit his website at http://www.connecticutperiodontist.com and call (203) 712-0917.