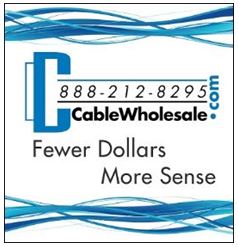 (PRWEB) June 04, 2013
CableWholesale.com, the online developer and distributor of quality, low priced cables, is offering high quality HDMI cables and accessories to best connect today's most popular gaming consoles to receivers and HDTVs for low online prices. These HDMI options are designed to optimize audio and visual capabilities. This comes as good news to people using today's most advanced gaming systems, who are seeking the best cables and more to maximize their gaming experience.
The Xbox 360, Xbox One, PS3 and PS4 are the most advanced gaming consoles in the world. However, their high definition video and audio output require quality HDMI cords to facilitate their capabilities. Without quality HDMI, users run the risk of losing significant visual and audio quality, such as is found in the analog to digital conversion process typical of common component cable use.
In addition, HDMI simplifies the process by supplying superior audio and visual signals in a single cable. Connecting a game console to a receiver via the HDMI cable allows for easy uncompressed, high quality audio, including Dolby TrueHD™ and DTS-HD Master Audio™ to amplify home theater systems. Connecting the console to an HDTV via a Cable Wholesale HDMI supports full 3D, 1080p and above.
CableWholesale.com offers a wide selection of all the major HDMI products on the market, including HDMI adapters and best in class HDMI and DVI cables. HDMI high speed cables are the newest additions to HDMI technology and are considered by industry experts to be the best option to maximize a game console's and HDTV's available features. All of CableWholesale.com's HDMI cables are high speed with Ethernet support to ensure the finest possible quality and experience for all their customers.
Cable Wholesale is dedicated to staying ahead of the technological curve on behalf of their valued customers. Their latest high speed HDMI cable with Ethernet support is part of their ongoing effort to supply the highest quality high definition video and audio cables on the market. As HDMI quickly becomes the standard, CableWholesale.com is committed to continuing to innovate exciting new HDMI products and more at low online prices.
About Cable Wholesale
Established in 1996, CableWholesale.com develops and produces high quality cables and accessories for today's latest HDTV's and more. They offer over 3,600 products through their website or by telephone order, including: network cable, Ethernet cable, Cat 5e cable, Cat 6 cable, HDMI to DVI adapter cable, custom cables, video cables, adapters, converters, and more. They are constantly updating and expanding their inventory. They offer a lifetime guarantee on their entire product base, price matching, low cost shipping, special pricing, sales, customer service, special orders and more. They have an A+ rating with the BBB. For more information, visit http://www.cablewholesale.com/ or follow them on Facebook, Twitter, LinkedIn, YouTube or Google+.