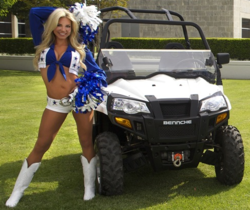 The Dallas Cowboys, Texas Rangers, and Bennche are a natural partnership.
Carrollton, TX (PRWEB) June 06, 2013
The next time you watch a ballgame, you'll see some big Texan pride—not just the players, the cheerleaders, or even the fans, but the Texan-built ATVs zooming around the field. As of the 2013 season, the official ATVs & UTVs of both the Texas Rangers and the Dallas Cowboys are built by Bennche, based in Carrolton, Texas.
As a sponsor for the teams' 2013 season, Bennche gets to show off its vehicles as well as its home-state pride. Rowdy, the Texas Ranger mascot, revs up fans from a Spire 800 UTV, and fans can join Rangers' Captain for a ride around the ballpark in a Bennche Bighorn 700X Crew. The Cowboys use Bennche vehicles at every home game: even the Dallas Cowboy Cheerleaders lend their style to the good-looking rigs. And this summer, fans will get the chance to win a great big present, Texas-style: tickets to the Cowboys-St. Louis Rams' game in September, airfare, hotel, and a brand new Bennche Gray Wolf 500 ATV.
The exposure is great for Bennche, but CEO Johnny Tai says that it's really all about Texan pride. In 2000, Tai came to Dallas from Taiwan to go to graduate school and he's never looked back.
"I'm proud to be a Texan," says Tai. "To me, Texas means 'tough.' It means 'quality,' and it means 'loyalty.' The Rangers and the Cowboys have that, and Bennche does, too. It's a natural partnership."
About Bennche
Bennche produces and distributes quality ATVs, UTVs and motorcycles, all American-built in Carrollton, TX. The company is proud that its vehicles are designated as the official ATV & UTV of the both the Dallas Cowboys and the Texas Rangers.