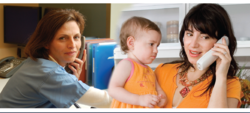 We believe this will extend the quality care we provide our patients through a time and cost effective solution that benefits our staff
Jacksonville, FL (PRWEB) June 06, 2013
TriageLogic™, a leading provider of quality and affordable triage solutions in healthcare, announces full implementation of Nurse Triage On-Call, a telephone nurse triage service, at Children's Hospital & Research Center headquartered in Oakland, CA. Children's Oakland is an independent, full-service hospital for children that has 191 licensed beds, provides inpatient, outpatient, and community-based services with 30 distinct pediatric subspecialties, and supports a nationally recognized pediatric teaching and research programs.
The installation of the Nurse Triage On Call system at Children's Hospital, which serves more than 77,000 patients per year, is a key example of TriageLogic's ability to handle patient calls quickly, consistently and accurately.
"We are excited to work with TriageLogic™ and implement their telephone nurse triage services! We believe this will extend the quality care we provide our patients through a time and cost effective solution that benefits our staff."Gena Lewis, MD, Medical Director, Children's Hospital & Research Center, Oakland.
TriageLogic™ CEO Ravi Raheja, MD, a pediatrician by specialty, notes that TriageLogic™is pleased to work with Children's to provide a comprehensive nurse triage system that incorporates a quality-focused mission reflecting that of Children's.
TriageLogic's array of products and services provides physicians, hospitals and clinics a method for standardizing patient care management across multiple offices, including "after-hours" nurse triage support. The Nurse Triage On Call service offers a compassionate staff of licensed registered nurses who are experienced at listening, coaching and offering education to patients and families. Designed to increase the quality of care provided to patients, while also creating a more efficient process for healthcare providers, TriageLogic™ products and services have become recognized as vital solutions in healthcare delivery.
Highlights of Nurse Triage On Call include:

Prompt call back times, 30 minutes or less
Experienced, highly-trained registered nurses
Nurse manager and back-up staff on call 24 hours a day
Gold standard protocols by Barton Schmitt, MD, and David Thompson, MD
Highly customized standing orders – TriageLogic nurses follow your instructions specific to your practice or each physician in your practice
Printed report of every encounter (Full integration with EMR available)
Full-liability coverage for nurses (calls recorded)
For more information about TriageLogic or Nurse Triage On Call, contact Amy Smith at (336) 529-2493 or Amy(dot)Smith(at)triagelogic(dot)com.
About TriageLogic™ (http://www.TriageLogic.com) Founded in 2005, TriageLogic™, a national service provider, is a leading provider of quality, state-of-the art telephone nurse triage software, and after-hours nurse triage services. Founders, Ravi Raheja, MD, and Charu Raheja, PhD, combine their expertise in medicine and finance to develop telephone nurse triage products and services that focus on increasing the quality of patient care through time and cost-effective solutions. By integrating a unique blend of innovative communication technologies, gold-standard protocols, and medical proficiency, TriageLogic ensures exceptional returns for healthcare enterprises of any size. For more information, please visit http://www.TriageLogic.com, or call: 1-855-TEAM-TLC