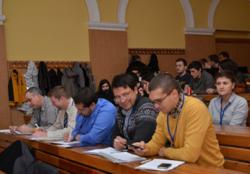 Our goal is to appreciate, motivate, and reward students who have a passion for software development.
Cluj-Napoca, Romania and Spokane, WA (PRWEB) June 11, 2013
For the past five years, Imprezzio Global, in the fast-developing country of Romania, has hosted a software contest for students enrolled at a university or technical school. Now, they're changing it up: In addition to cash, winners will receive a trip to the US and the opportunity to demonstrate their winning project at the first-ever US edition of the contest in Spokane, Washington.
Prizes in the past have included tech toys, cash awards, and--most coveted of all--internships at Imprezzio which have the potential to become jobs.
"Our goal is to appreciate, motivate and reward students who have a passion for software development," says Imprezzio Global's Managing Director, Tudor Armand Ciuleanu.
Students have until July 5 to register for the 5th Annual Imprezzio Software Contest individually or as a team of two. By November, they should have assembled a software project in one of the following categories:

Social/Leisure (Games or social network applications)
Brainy (Research, artificial intelligence, or security parallelism)
Easy Living (Smart Homes, or haptic software which improves quality of life for the disabled)
To ensure a level playing field, Ciuleanu says, contest entries must be developed using tools that are free for students. And although the most popular entries have historically fit into the above categories, Cileanu stresses that Imprezzio Global will consider *any* research, scientific approach to software, complex AI, advanced image recognition or other ideas that show good potential for contest material. "We also have a list of project ideas prepared for talented students who can't decide on a topic."
Previous winner Diana Timar, who majored in Computer Science at the Technical University of Cluj-Napoca, describes the Imprezzio Software Contest as "amazing," adding that her project Cat Track allows anyone to track their pet with their smartphone by attaching a small device to the animal's collar.
Other winning projects over the years have included software for:
collaborative editing
mobile driving assistance
mental agility games
fingerprint matching
clever house assistance
robot AIs
micro-blogging
rescue systems
laser micrometers
"Even students who don't win cash or a trip to the US benefit from the contest," Cileanu says. "They get a unique networking opportunity with an international mix of students, professors, and IT specialists plus experience to add to their resumes. They put their ideas to the test by competing against their peers, and receive guidance and feedback from specialists, which helps them to improve.
"And finally," he says, "Some students will be able to turn this experience into an employment opportunity--not only with Imprezzio Global, but across a broad spectrum of tech companies."
That's just how things worked out for Ionut Tamas, who participated in the 2012 contest and will start as a Junior Developer at Imprezzio Global after his graduation in August. Norbert Szappanos, the 2010 winner, also started at the company as a Junior Developer and has since been promoted to Team Lead.
About Imprezzio Global
Since 2008, Imprezzio's European branch, based in Cluj, Romania, has specialized in enterprise cloud-based applications, mobile applications, existing-system integration, contact and marketing management and embedded hardware solutions.