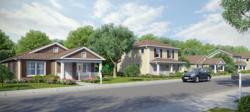 Dayton, Ohio (PRWEB) June 04, 2013
In celebration of NeighborWorks® Weeks, and NeighborWorks® America's 35th Anniversary, Miller-Valentine Group joins St. Mary Development Corporation for the Roosevelt Community Event and Open House on Wednesday, June 5, 2013. This event will take place at the Greater Dayton Recreation Center at Roosevelt Commons located at 2021 West Third Street from 3:00pm-5:00pm.
The Roosevelt Community Event and Open House will be attended by partner organizations, city and county officials, local business leaders and Roosevelt Home residents and neighbors. This event will feature many kid-friendly activities, plenty of food and beverages for all guests.
During the open house, Miller-Valentine Group will showcase their beautiful Roosevelt Homes. Guests will have the opportunity to tour the brand-new homes which feature luxurious amenities at an affordable price: four bedroom floor plans with two full baths, energy-efficient design and appliances, fully-equipped kitchen with pantry, exceptional closet space, central air conditioning, full-size washer/dryer connections, laundry room with extra storage, outdoor living areas and detached garages.
Along with partners St. Mary Development Corporation, City of Dayton, Ohio Capital Corporation for Housing, Ohio Housing Finance Agency, Key Bank, Ohio Department of Development, U.S. Department of HUD, Miller-Valentine Group is greatly honored to open the doors of the newest project involved in Dayton's neighborhood revitalization program.
For more information about the Roosevelt Community Event and Open House or Roosevelt Homes, please call (877) 894-4538 email us at roosevelt(at)propemail(dot)com, or visit YourNextPlacetoLive.com.
About Miller-Valentine Group
Since our founding in 1963, Miller-Valentine Group has been dedicated to quality, value and service. Our vertically intergraded companies offer total real estate solutions in the areas of Design/Build Construction, Development, Management, and Financing for both residential and commercial markets. They also provide Renovation, Brokerage, and Leasing services for commercial markets. All of Miller-Valentine Group's divisions have combined to provide customers with more than 11,000 residential housing units and over 50 million square feet of commercial space.
Miller-Valentine Group develops real estate in the Midwest, Southeast, and Southwest regions of the country, with offices in Dayton and Cincinnati, Ohio, Columbia and Charleston, South Carolina, and Ft. Worth, Texas. As an industry leader they offer a wide range of residential products, including multi-family, single family, military housing, active adult, independent and assisted living, as well as skilled nursing communities. The company also offers a vast array of commercial products, including office, retail, lodging, healthcare, manufacturing and distribution facilities.