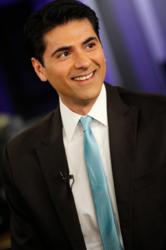 If there's anyone in the world who can do it, it's Kobe.
Beverly Hills, CA (PRWEB) June 05, 2013
Appearing every Monday on Fox's morning news program, Good Day LA, Dr. Sonu Ahluwalia reports on a variety of topics in health and medicine. This week, the board-certified surgeon educated viewers about steps they can take to protect themselves from a possible outbreak of bacterial meningitis.
"Coughing, sneezing, kissing and close contact of any sort can transmit the disease," said Dr. Ahluwalia. "Anyone who is in close contact with somebody who may possibly have this disease should get the vaccine."
The recommendation comes after a West Hollywood man diagnosed with bacterial meningitis was declared dead this Saturday. Although Dr. Ahluwalia reinforces the fact that meningitis is not a "gay problem," and anyone can become infected, experts are recommending that sexually active gay men be on special alert for possible meningitis symptoms.
Occurring when the protective membranes on the brain and spinal cord become inflamed, bacterial meningitis causes a range of symptoms including fever, stiff neck, vomiting and sensitivity to light. According to Dr. Ahluwalia, the vaccine for bacterial meningitis is very safe.
"Other than the allergic reactions and rare side effects, there's no real downside that we know of," said Dr. Ahluwalia. "Let's attack [this disease] aggressively and make sure it doesn't spread."
A surgeon in the Orthopedics Department at La Peer, Dr. Ahluwalia also spoke on Kobe Bryant's recent season-ending Achilles' tendon injury. The 34-year old Laker underwent surgery to repair an Achilles' tear suffered during Friday's game with the Golden State Warriors.
Stretching from the heel to the calf, the Achilles tendon allows the foot to extend and the toes to point. When the Achilles tendon tears, the ends fray, and the surgeon must overlap the pieces slightly in order to sew the rupture. Hence, the healed tendon is slightly shorter than the uninjured one. For this and other reasons, recovery after Achilles tendon surgery depends in large part on the patient's physical state and rehabilitation efforts.
"If there's anyone in the world who can do it, it's Kobe," said Dr. Ahluwalia, who has performed hundreds of Achilles tendon repairs in his practice.
Watch the entire news segment with Dr. Ahluwalia on My Fox LA.
For more health tips from Dr. Ahluwalia, as well as videos of his other FoxLA segments, visit his Facebook page.
Sonu Ahluwalia, MD, is an internationally-acclaimed board-certified orthopedic surgeon at La Peer Health Systems, as well as the Clinical Chief of Orthopaedic Surgery at Cedars Sinai Medical Center in Beverly Hills. His private practice specializes in sports medicine, shoulder, knee and hip surgery.
Dr. Ahluwalia completed his orthopedic training at the Harvard Combined Orthopaedic Surgery Residency Program in Boston, one of the most sought after training programs in orthopaedic surgery. He has completed three fellowships, two at Harvard Medical School and one at Lenox Hill Hospital in New York City, on shoulder surgery, sports medicine, and joint replacement and joint preservation surgery. For more information please call 310.659.2910 or visit http://www.Ahluwalia.org.