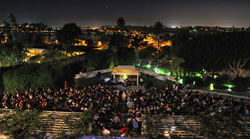 We are pleased to be hosting this phenomenal event at our renovated, world-class property again this summer. - Daniel Kuperschmid, General Manager of the Hyatt Regency Newport Beach
Newport Beach, California (PRWEB) June 05, 2013
The Hyatt Regency Newport Beach – a highly esteemed and newly renovated luxurious resort – is kicking off their popular annual Summer Concert Series on June 21 at 7:30 p.m. with Grammy award-winning, singer songwriter Michael McDonald in Newport Beach, CA. The sixteen-show concert series will run through Friday, October 18.
"We are pleased to be hosting this phenomenal event at our renovated, world-class property again this summer," said Daniel Kuperschmid, General Manager of the Hyatt Regency Newport Beach. "Our intimate venue, delicious food, and great music make this event a compelling experience for both local residents and visiting guests looking for the perfect summer evening. We have an exciting lineup of musicians that attendees will love."
Performances will be held in the Hyatt's Back Bay Amphitheater, a beautiful one-of-a-kind venue which boasts grass carpeted steps and comfortable seating in a lush coastal garden setting. The intimate venue provides seating for just 1,000 people, allowing a unique, up-close, and personal experience with performers most frequently seen in significantly larger venues. The series begins with an evening featuring musically acclaimed Michael McDonald, a seasoned songwriter that has collected five Grammy awards in his 40 years as a performing musician. Other notable evenings in the series feature such popular acts as Jessy J & Jeff Lorber on June 28, The Commodores on July 26, Chris Isaak on August 2, Boney James on August 16 and Jeffrey Osborne, on September 6.
Guests have the option to pre-purchase a buffet-style dinner from the newly established SHOR, the Hyatt Regency's signature restaurant, for just $40 per show. SHOR will offer delectable seafood cuisine and a wide selection of fine wines – perfect for those looking to create a memorable date night. SHOR's Executive Chef, Jonathan Solis, ensures that only the freshest, local, organic ingredients are used in his dynamic and delicious dishes.
Guests looking to stay the night at the resort-style Hyatt Regency Newport Beach will have the opportunity to experience the recently-completed reinvention that encompassed all aspects of the property – from the grand front drive, porte-cochère, and lobby to its 407 guest rooms and suites, to its pools, extensive grounds, and restaurants. The property combines historic charm and modern-day luxury amenities, creating an unparalleled ambiance for couples and families alike.
Tickets are available for individual shows or season passes. Prices for individual shows range from $55-$110, depending on the show date and seating tier. Season passes include tickets to all sixteen shows throughout the concert series, plus exclusive VIP benefits for the ultimate celeb treatment, including assigned premium seating, complimentary valet service, and access to the VIP Hospitality Suite. Season passes can be purchased for $1,745. For more information on the Summer Concert Series and to purchase tickets, please visit http://www.hyattconcerts.com or call 949-360-7800.
Series Schedule
June 21: An Evening with Michael McDonald
June 28: Acoustic Alchemy, Jessy J & Jeff Lorber
July 12: Peter White, David Benoit, & Spencer Day
July 19: Sax And The City ft. Marion Meadows, Paul Taylor & Vincent Ingala
July 26: An Evening with The Commodores
August 2: An Evening with Chris Isaak
August 16: Boney James
September 6: Jeffrey Osborne
September 13: BWB: Rick Braun, Kirk Whalum & Norman Brown
October 4: Jesse Cook & A Special Guest
October 11: Keiko Matsui & Hiroshima
Plus, many more artists will be announced in the coming weeks!
About Hyatt Regency Newport Beach
Hyatt Regency Newport Beach, a 407-room hotel, is located in Newport Beach, California and is situated on 26 beautifully landscaped acres, offering style and luxury in the heart of the city's best shopping, dining and entertainment venues. The Resort is just minutes to shopping mecca Fashion Island and charming Balboa Island, and is centrally located on Jamboree and Pacific Coast Highway - providing easy access to major attractions, local beaches and businesses. In addition, the Hyatt Regency Newport Beach is the ideal setting for groups and events featuring high-tech meeting space and tropical outdoor venues to accommodate functions of all sizes. With its rich blend of Pacific, Indonesian and Mediterranean styles, the Hyatt Regency Newport Beach radiates the warmth and charm of this unique beach community unlike any other hotel in the area. Reservations for Hyatt Regency Newport Beach may be made by calling 949-729-1234 or by visiting http://www.newportbeach.hyatt.com.