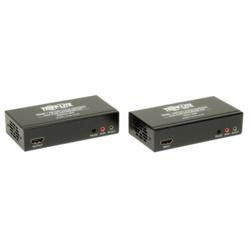 Chicago, IL (PRWEB) June 05, 2013
Tripp Lite, a world-leading manufacturer of power protection and connectivity solutions, has introduced two new extenders that enable maximum flexibility in digital signage applications. The B140-202 DVI over Cat5 2 x 2 Matrix Switch and B126-1A1SR HDMI + IR + Serial RS232 over Cat5 Active Extender Kit both extend signal distance, enabling clear video images to be displayed anywhere they are needed in an application. They also use convenient, less expensive Cat5e/6 cabling, which reduces installation costs.
B140-202 DVI over Cat5 2 x 2 Matrix Switch Key Features and Benefits:
-- Shares two DVI-D Single-Link video sources between two monitors
-- Transmits a signal over one Cat5e/6 cable to a remote monitor up to 200 feet away
-- Allows users to switch between inputs via pushbuttons or the included remote control
-- Offers plug-and-play convenience with no software or drivers required
-- HDCP- and EDID-compliant
B126-1A1SR HDMI + IR + Serial RS232 over Cat5 Active Extender Kit Key Features and Benefits:
-- Meets HDBaseT 1.0 specifications for transmitting audio/video and control signals
-- Extends an HDMI 1080p (60 Hz) or RS232 serial signal up to 328 feet from a source
-- IR functionality allows users to use an HDMI source's remote control in the same location as an extended monitor
-- Supports RS232 serial baud rates of up to 115 kbps
-- Supports 7.1-channel surround sound, DTS-HD and Dolby True HD audio
-- HDCP- and 3D-compatible
For more information on these new extenders and other digital display solutions, visit: Tripp Lite Digital Signage and Display Solutions.
About Tripp Lite
Outstanding product reliability and exceptional service have been Tripp Lite trademarks for over 90 years. Tripp Lite's innovations include the world's first UPS system designed specifically for personal computers, and the world's most trusted premium surge suppressor--the Isobar®-with more than 19 million in use. Tripp Lite maintains the highest level of ready-to-ship inventory in the industry with more than 2,500 different products, including UPS systems, rack systems and cooling solutions, PDUs, PowerAlert software for enterprise-level system management and control, surge suppressors, KVM switches, cables and connectivity products, inverters, power strips and notebook accessories.
Headquartered in Chicago, Illinois, Tripp Lite maintains a global presence with fully staffed offices worldwide. Additional information, including a list of Tripp Lite's sales offices and authorized reseller partners, can be found by visiting Tripp Lite's website: http://www.tripplite.com.