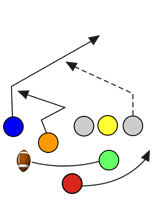 Colorado Springs, Colorado (PRWEB) June 06, 2013
Are your kids ready to hit the road to gridiron stardom? Flagbootballstrategies.com is here to help your kids develop the skills and learn the play basics to help them develop into superstars. Youth flag football is a great way to kids out and active in addition to teaching them valuable skills.

Position basics and responsibilities
Teamwork
Direction following
Sportsmanship
Humility
Coordination
Dr G has designed a flag football playbook specifically geared towards youth that helps build all these skills among many others. These youth oriented play books feature hundreds of offensive, defensive and even trick plays that are proven to produce results. Plays are all displayed using an easy to follow color coded diagram that marks each individual player on the field with a color. Players simply have to look at their color on the diagram and instantly see their routes and responsibilities.
These youth flag football plays are all designed uniquely for 4, 5, 6, and 7 man teams depending on book. Dr G even has a book the larger and more complicated 8 on 8 flag football plays.
For coaches that want to take total creative control of their teams play books, Dr G has an online access interactive play designer. Coaches can log in and create their own entire book of plays built around their team's strength and key players. Using the same color coding system entire offensive and defensive setups can be created based out of multiple formations with fakes, options and even pulling linemen.
Created plays can be exported and printed, or if coaches wish they can printed as inserts and used in Dr G's patented Wristband Interactive system. This wrist coach allows players to use a small insert of effective plays in a color coordinated wristband. All coaches have to do is call a number, or the quarterback can even call their own plays. The wristband interactive makes the huddle obsolete and catches opponents completely off guard.
Dr G has all the tools for both coaches and players to storm the field and make the drive to a winning season. For more information about Dr G's playbooks, Wristband Interactive and Play Designer visit http://www.flagfootballstrategies.com/, call 888-233-2250 ext 101 or email info(at)flagfootballstrategies(dot)com.