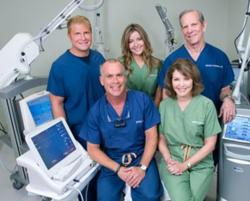 This is truly the best treatment for tattoo removal.
San Diego, CA (PRWEB) June 06, 2013
The highly respected dermatologists of Goldman, Butterwick, Fitzpatrick, Groff & Fabi Cosmetic Laser Dermatology in San Diego are pleased to announce the arrival of the newest and most advanced treatment for tattoo removal, the PicoSure laser. According to Dr. William Groff, laser expert at GBFG&F, the new PicoSure laser system is able to bring patients better outcomes in fewer treatments.
"Because the PicoSure Laser system is able to target such specific areas in the skin to create a photomechanical impact, tattoos are disrupted in a much greater clearance than with any other treatment," said Dr. Groff. "This is truly the best treatment for tattoo removal available."
The new PicoSure laser system is the first in the world to rely on picosecond technology. Unlike other tattoo removal lasers, the PicoSure system delivers quick pulses of energy to targeted areas of the skin at an astounding width nearly 100 times shorter than nanosecond technology. As Dr. Sabrina Fabi describes, dermatologists are now able to treat difficult, darker tattoos that may have left unwanted residue behind.
"Tattoos with blue and green ink have historically been the toughest to fully remove. Now, with the PicoSure laser in San Diego, we're able to break the tattoo into microscopic particles that the body can easily dispel, in half as many treatments as traditional Q-switched lasers" said board certified dermatologist Sabrina Fabi, MD.
At GBFG&F in San Diego, the PicoSure laser can also be used to treat benign pigmented lesions, including hyperpigmentation, melasma, and unwanted discolored sunspots. Though each patient is unique, the number of treatments required for optimal results is greatly lowered with the advanced technology of the PicoSure laser.
"Before the PicoSure laser, a patient may need 4-6 treatments to see the best results for the diminishment of tattoos or other pigment problems. Today, our patients see excellent results in as little as 2 treatments," said Dr. Groff.
Goldman, Butterwick, Fitzpatrick, Groff & Fabi: Cosmetic Laser Dermatology is a world-renowned aesthetic center in San Diego, California made up of five internationally distinguished skin care experts, including Mitchel P. Goldman, MD, Kimberly Butterwick, MD, Richard Fitzpatrick, MD, William Groff, DO, and Sabrina Fabi, MD. As highly acclaimed dermatologists and cosmetic surgeons who have contributed hundreds of medical papers to journals and medical textbooks as well as pioneered multiple key procedures, the services provided F are among the most technologically advanced to date. With more than 38 different lasers, the award winning San Diego dermatologists of GBFG&F are able to provide patients with the most comprehensive selection of skincare treatments in the United States.
For more information regarding treatment with the PicoSure laser for the removal of unwanted tattoos, please call (858) 657-1002 or visit us on the web at: http://www.gbkderm.com.