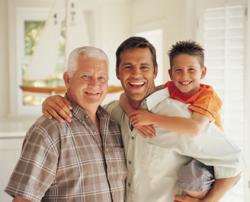 "I know all too well that a father's alone time with his son is absolutely sacred; it's times like these where a father can influence his son's character and build memorable moments that will last a lifetime," says Founder Ben Davis.
(PRWEB) June 04, 2013
Davis discovered long ago that The Gents Place Men's Fine Grooming Club did not simply exist to meet grooming needs and was actually becoming a place where clients' lives were truly enriched. At that point, Davis quickly realized that the bar was raised on his clients' expectations for what The Gents Place provided.
The Father/Son "Picture Perfect" Experience was created with that in mind. This service experience creates a unique setting for a father and son to connect. The package includes two 5 Course Grooming Services, expert shoe shines and complimentary beverages of choice. The Gents Place is adding a special gift for clients; a digital photo commemorating the special occasion. Sons as young as two years old can participate. With families containing more than one son and/or a grandfather that would like to participate, add-ons are available as well.
This keepsake photo can be shared on social media, with friends and family or even blown up and hung over the mantle. The package can also be purchased online and sent as an e-gift. The recipient will receive a personalized email of the gift details. To learn more about this service experience or other Father's Day packages, please visit http://thegentsstore.com/collections/gifts/products/father-son-picture-perfect-experience.
About The Gents Place
Founded in 2008 by Ben Davis, a frustrated guy who hated getting his haircut, The Gents Place offers men's grooming and lifestyle products and services in a masculine, yet relaxed country club type environment. They offer men's hair services, hand and foot repairs, straight razor shaves, massages, shoe shines and more. Frequently referred to as America's Premier Men's Grooming and Lifestyle Club with locations in Texas (Dallas, Frisco) and Kansas (Leawood), The Gents Place is known for its commitment to client service and top shelf amenities.
To learn more about The Gents Place or to find a club near you please visit, http://www.thegentsplace.com.