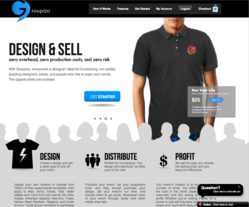 Chicago, IL (PRWEB) June 06, 2013
Izo launches its revamped group design and collaboration ecommerce platform, Groupizo, as a sales, fundraising, and group design platform optimal for use by designers for online retail, and philanthropies and other nonprofits for fundraising purposes, through Group Funding - crowd funding the Groupizo way. Groupizo offers the opportunity to design and sell customized apparel and products with zero overhead, zero production costs, and zero risk. Along with the new functionality, Groupizo calls to its roots with social components, online design tools, and collaborative design capabilities.
Using the new, improved Groupizo to raise or earn money is simple: after logging in using their Customizo.com account, designers create an event. The designer/group creator then customizes a product or products, determines a sales goal and selling price, decides when to begin and end their event, and creates a unique descriptive URL to distribute to their supporters. Individual ordering and shipping options complete the distribution process, removing this onus from the group creator. Free bulk shipping is also available as an option. Groupizo provides the ultimate in user experience customization at every juncture.
Groupizo differentiates itself from other tee design and retail sites by offering an unparalleled array of amenities in addition to its superior design tools and effortless user interface. Unique to Groupizo, users may create multiple custom products, or "closet" full of customized items, to sell during the same event.
Another discerning characteristic is the capacity for social collaboration and group design, a Groupizo hallmark from the beginning. The designer has the option to invite their friends to the design process, whereupon they can edit existing designs, create their own designs within the group, vote on their favorite design, and chat in real time with other group members to design as a team. The level of peer involvement in the product design and customization process is decided by the group's creator.
The applications for Groupizo are endless. Because Izo handles the production, distribution, and inventory management portions of the retail business, the sales experience becomes risk free for the end user - whether they are a seasoned retailer or new to the concept. From the college student who wants to make an extra buck designing and selling custom t-shirts to their peers, to the charity raising money to support cancer research, to softball teammates who want to customize jerseys together - Groupizo is for everyone.
About Customizo and Izo Brands: With Customizo, Groupizo and Snapizo, Izo is knitting the framework for the future of e-commerce with a multi-faceted set of innovative product customization and design tools, a unique group collaboration interface, and mobile media distribution applications. Izo's mission is to be the most customer-centric, creative, and innovative company in the custom apparel and promotional products industries.