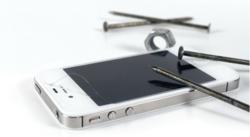 Draper, Utah (PRWEB) June 05, 2013
BodyGuardz, provider of leading gadget protection products and consumer electronics accessories, announces that UltraTough™ Clear Skins and UltraTough™ ScreenGuardz – both for the iPad 4 – are now available at all 122 Fred Meyer retail stores throughout the Pacific Northwest and Alaska. UltraTough™ Clear Skins and ScreenGuardz are easy-to-install transparent coverings that protect both the screen and backing of hundreds of different smartphone and tablet models.
"We're extremely excited to announce our partnership with Fred Meyer," said Kirk Feller, president and CEO of BodyGuardz. "Fred Meyer customers will now be able to experience firsthand why UltraTough™ products are known for offering the best in complete device protection."
Advantages of UltraTough™ Clear Skins and ScreenGuardz include:

Ultra-Tough & Optically Clear – Made with material specifically engineered for mobile device protection.
Outstanding Design – Custom designed to fit each device so you get the maximum amount of coverage and protection.
Easy Application – Can be applied with or without new gel application method (instruction pamphlet is included).
Treated with Anti-Microbial – Treated with an anti-microbial to protect the film from bacterial growth.
UltraTough™ Clear Skins and UltraTough™ ScreenGuardz for the iPad 4 are available in Fred Meyer stores at MSRPs of $19.95 and $29.95, respectively.
About BodyGuardz
BodyGuardz, founded in 2002, is committed to offering top-quality products and services at a reasonable price. The company prides itself in providing products, service and delivery that customers notice is a step above the rest. BodyGuardz includes the UltraTough clear skins full-body films available for thousands of devices; ScreenGuardz, screen protectors available in multiple film types; armor, which are custom-cut protectors featuring designs for device personalization; iPhone 4/4S and 5 fully customizable MyKase; The Garrison for iPad, iPad Mini and Kindle Fire; earjax premium ear buds and more. For more information, visit: bodyguardz.com/company.
About Fred Meyer
Since 1922, Fred Meyer superstores have been serving the Pacific Northwest with groceries, drugstore goods, clothing, home products, electronics, toys and sporting goods. The company pioneered one-stop shopping and prides itself on its commitment to customers. Fred Meyer is a division of Kroger following its merger with the company in 1998.