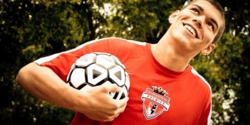 High school seniors do not realize how important their senior memories will be...
Kalamazoo, MI (PRWEB) June 05, 2013
For the class of 2013, the rest of their lives is now beginning, but for the class of 2014, one more hurdle remains – the senior year.
Many look forward to the senior year and all that it entails. From the Fall Homecoming with football to acceptance letters and the all-important graduation, the senior year is one that needs to be memorialized.
"High school seniors do not realize how important their senior memories will be, so I try to help them and their parents make this a time they will recall and recall fondly for the rest of their lives," said Brian Powers of Briankpowers.com.
Leaving the IT world after 20 years, Powers decided to turn a passion into a profession with his photography. He takes great pride in senior portraits and shots. Each one is designed and crafted to tell a story of the moment and of the year of the senior.
"I have many who are camera shy and do not like pictures, but I have a skill that makes them open up and enjoy themselves and the moment. This makes the shot much more enjoyable for both of us," said Powers.
Powers' senior package contains everything to make the moment special including clothing changes and multiple locations for the shoot. Once the pictures are taken, he then cleans them up to remove blemishes and the like. This leaves behind a stunning picture and portraiture that is more art than merely a picture.
"I take pride in my work. My name is on the website and my reputation rides on how well my next shoot will go; contact me if I can help you or your senior with a senior photo shoot," said Powers.
For additional information or to schedule Powers, visit http://www.briankpowers.com.