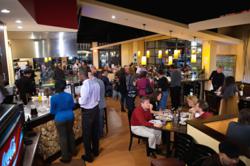 Our focus at FuegoMundo is to offer authentic, delicious and healthy menu options to our customers and community. Eating healthy has been a focus for me personally, since my high school days as a competitive gymnast, says owner Masha Hleap.
Sandy Springs, Georgia (PRWEB) June 06, 2013
Healthy menu options keep customers engaged and excited about FuegoMundo, the first Kosher South American restaurant in the USA. Chef and owner Masha Hleap, originally from Colombia, South America and raised in Sandy Springs, GA, continues to create menu items that have set new expectations for what to expect for healthy, Kosher dining.
Many of the menu items at FuegoMundo are naturally gluten-free. With the growing number of the US population that is gluten-intolerant and diagnosed with celiac disease, having a menu that is largely gluten-free appeals to an audience that is very loyal and appreciative. In addition, the menu at FuegoMundo is dairy-free and Kosher. While a Kosher menu appeals to the Orthodox Jewish community, it is also recognized by many health experts as a healthier way to eat.
"We have a back-to-basics approach. We use only fresh veggies and ingredients, hormone-free proteins, minimally processed foods and a wood-fire grill," according to Masha. "This is what makes the food healthy and great-tasting." Meats and fish are cooked on separate areas of a wood-fire grill with authentic seasonings and homemade marinades that deliver the flavor to the entrees. Meat lovers can choose from lamb chops, Kobe beef, grass fed ribeye, Argentinean Churrasco, beef and veal sausage, steak skewers and several chicken entrée options.
FuegoMundo opened its doors four years ago in June 2009, and became certified Kosher in 2011 – the first of its kind restaurant in the USA. The restaurant offers an authentic and healthy taste of South American cuisine spanning the entire continent. The menu includes dishes from Argentina, Colombia, Venezuela, Brazil, El Salvador, Cuba, Peru, Puerto Rico, Uruguay and more. In addition to being Kosher, FuegoMundo is a place vegetarians, vegans, and people with gluten-free and dairy-free restrictive diets will enjoy and appreciate.
FuegoMundo is located at The Prado Center in Sandy Springs, Georgia. To learn more about the restaurant, AKC Kosher certification, and menu visit online: http://www.fuegomundo.com.