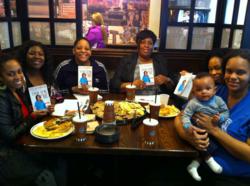 Baltimore,Maryland (PRWEB) June 06, 2013
Maryland and Virginia Corner Bakery Cafes™ are excited to team up with The Mom Strategist™ and author Mia Redrick on behalf of busy moms. Redrick and Corner Bakery Cafe™ know that being a mom is the toughest job in the world. They appreciate moms and their goal is to make motherhood a more fulfilling experience, and to help local moms get the most out of motherhood by having the convenience of great locations, a comfortable atmosphere, healthy food, and an environment to build community.
Corner Bakery Cafe™ will provide a complimentary beverage, a sweet treat, and reserved space to every mom who attends a weekly meeting to reward mothers for finding some "Me Time." All that is required is that a mom interested in hosting or joining a group registers for a Time for Mom-Me® group at http://timeformom-me.com. In addition to guided discussion items, registered moms will also be provided with an online guide to successful self-care and free access to an online community of supportive moms.
Redrick, author of the best-selling guide to mother's self-care, Time for Mom Me: 5 Essential Strategies for Mother's Self-Care, has organized Time for Mom-Me® support groups for years and has helped thousands of moms with personal growth, knowing that these women become better mothers when they practice self-care. Redrick has made it her mission to help moms take better care of themselves and, with the help of Corner Bakery Cafe™, Maryland moms can find a support group with all of the tools for successful self-care.
The Time for Mom-Me® group program consists of six sessions, corresponding with Redrick's strategies of finding time, finding meaning, finding connections, finding solutions, personal growth, and the blueprint of motherhood. Moms will agree to meet once a week based on their availability for guided discussion to help them incorporate self-care, which, as part of the program, are provided at no cost by Redrick's online videos and fun interactive programs.
Beyond that, moms will find a group of like-minded, supportive, potential new friends and moms who understand their needs. One of the pillars of self-care is a support group that encourages camaraderie, accountability, sharing, encouragement, and solutions.
The Time for Mom-Me® group will empower moms with the strategies and reflections each week to practice better self-care. Moms will interact regularly with other moms in a setting that promotes well- being and positive solutions. Moms will improve their lives and achieve results! Tawanna Brown Smith (momsguidetotravel.com) had the following to say about Mia, "Mia's coaching program has been a key component in my business growth. She has a magic way of connecting the dots and providing clarity when all seems unclear."
Interested moms can find the location and meeting times of their local Time for Mom-Me® group at http://timeformom-me.com/corner-bakery-location/ or they can start their own.
Corner Bakery Cafe™ was started as a little bread bakery, supplying freshly baked bread to happy customers around town. People loved their breads so much; they couldn't help but evolve into a café where they could serve equally remarkable sandwiches. This, of course, led to delightful sweets, savory Panini, fresh salads, and hearty bowls of soups and pasta. Before they knew it, they were a neighborhood favorite in communities all over—a place to find a warm welcome where people can gather with friends or hide out on their own. A place where fresh, innovative food is served up with unsurpassed quality and consistency by passionate employees. A place still dedicated to keeping their neighbors, friends, and guests happy, in their special little Corner of the world – On a Corner. That's where they started.
Contact: Mia Redrick
Finding Definitions, LLC
Baltimore, MD 21215
410-960-6682 | mia_redrick(at)findingdefinitions(dot)com
http://www.FindingDefinitions.com | http://www.TimeForMom-Me.com