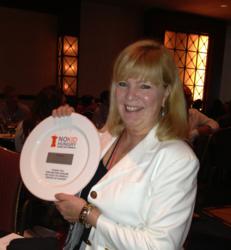 "Share Our Strength is so literal in the sense that everyone has a strength to share, and using that strength to push the No Kid Hungry campaign is simply what needs to be done," says Murphy, who has been a chair of the Fort Lauderdale team for ten years.
Washington, DC (PRWEB) June 05, 2013
Panache Party Rentals is in the business of bringing dreams to life, and that also includes the dream to end childhood hunger. The South Florida division of Classic Party Rentals has been volunteering to help fight childhood hunger through the Share Our Strength foundation for years. The organization's dedication and outstanding contributions to the cause of putting food on the table for America's children was recognized at Share Our Strength's annual Conference of Leaders in Washington, D.C. held June 2-3.
Panache and its director of business development Kelly Murphy are the recipients of Share Our Strength's Local Business Partnership Award. The award acknowledges Panache's contribution to the foundation's ongoing attempt to provide food for America's young people through its No Kid Hungry initiative.
The award recognizes the long-term relationship between the charity and Panache, which has been ongoing for more than 20 years. Panache has supported Share Our Strength both with in-kind services (tables, chairs, linens, china, stemware and event design) and financial sponsorship for the charity's variety of South Florida events, including Taste of the Nation, Tasteful Pursuit Dinners and The Great American Bake Sale. Panache staff has always stepped forward to volunteer through acts of kindness that range from baking cookies and cakes to raising funds and awareness. Beneficiaries have included Feeding South Florida, Florence Fuller Childhood Development Centers, Camillus House and The South Florida Coalition to End Hunger.
"Share Our Strength is so literal in the sense that everyone has a strength to share, and using that strength to push the No Kid Hungry campaign is simply what needs to be done," says Murphy, who has been a chair and co-chair of the Fort Lauderdale team for the past ten years, as well as served on the charity's board. "The face of hunger is sometimes invisible, but it goes to school with our children. It meets them at the playground and it may very well be in the lives of people we see every day."
"We feel so honored to be recognized for our company's support of this important cause," continues Murphy. "I'm so proud of my co-workers who have given their time volunteering, sorting food, working on the Great American Bake Sale and spreading the word over the years."
ABOUT CLASSIC PARTY RENTALS
Classic Party Rentals is the nation's leading full service event rental company. Classic services most major markets including San Francisco, Los Angeles, Chicago, Dallas, Phoenix, New York, and Pompano Beach. Its high-profile event roster includes more than 180,000 major sporting events, brand promotion tours, Hollywood awards shows, movie premieres, celebrity weddings, charity events and private social events annually. Locally, each Classic Party Rentals location is recognized as an integral part of successful holiday celebrations at home and at work, backyard weddings and birthday parties, school and church functions, local food and wine festivals, and many community service benefits. Classic Party Rentals is also a leading nationwide provider of tents, clear span structures, power, heating, air conditioning and sub-flooring. Ultimately, there is no need to lose sleep over the details. If you can dream it, Classic Party Rentals can deliver it. We do business under a number of different names, and customers are never disappointed by our Blue Diamond service or the strength of our partners will bring to events. For more information, please visit ClassicPartyRentals.com. "Choose Wisely Choose Classic. Feel Secure…No Event too Big or too Small; we do them all."
ABOUT SHARE OUR STRENGTH
Share Our Strength is a national organization working to end childhood hunger in the United States. Share Our Strength holds culinary events, solicits individual donations, and utilizes social media efforts to raise funds, which are then used to fund long-term solutions to the hunger problem. Through corporate sponsorships, funds that Share Our Strength raises are then significantly magnified. Share Our Strength began in the basement of a row house on Capitol Hill in 1984, in response to the '84-'85 famine in Ethiopia. Brother and sister Bill and Debbie Shore started the organization with the belief that everyone has a strength to share in the global fight against hunger and poverty, and that in these shared strengths lie sustainable solutions. Today the organization focuses these strengths on making No Kid Hungry a reality in America.