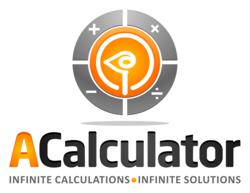 (PRWEB) June 07, 2013
acalculator.com, a newly launched website that is garnering plenty of interest by offering free-to-use calculators for various purposes, has recently introduced its fairly-priced White Label service. With this service, the website allows its client to not only display a calculator on their website but also customize it according to their brand. While all the calculators on the website are free-to-use, acalculator.com will charge a small subscription fee for the White Label service.
The spokesperson for acaclulator.com shared his excitement over the response their white label service has been receiving lately. According to the spokesperson, "Website users are usually looking for valuable information and help. Whether you are a financial consultant or mortgage broker, a calculator on your website will offer that value to visitors looking for help in such matters. Customization of such a useful tool has helped our clients deliver value while improving their brand image. That is why we are receiving amazing response."
While customized calculators from acalculator.com are helping its clients offer value to their website visitors, acalculator.com itself maximizes the value by offering complete server support. The white label service is offered with complete server support in order to save client's hosting server from additional burden. acalculataor.com's server, as spokesperson explained, operated under an agile Content Delivery Network that delivers content according to the geographical location of the end user.
Furthermore, the spokesperson explained that the clients subscribing to the White Label service will be offered plenty of value added perks such as free updates. "Financial calculators are likely to go obsolete due to changes in laws and rules. Our financial experts stay up-to-date with such changes and we immediately incorporate such changes in all the calculators," the spokesperson added.
The scope of acalculator.com is not limited to mortgage and tax calculations. The website offers more than 300 financial calculators that are helpful in a diverse range of financial matters such as savings, investments, retirement, auto and insurance, etc. The white label service is available for a reasonable monthly subscription fee that is subject to change as per client's requirement.
For more information regarding the white label subscription and the list of calculators available on the website, please visit http://www.acalculator.com.
About acalculator.com
acalculator.com is a newly launched website that offers budgeting and financial calculation tools for free. The website currently features 300 different calculators ranging from mortgage calculator to long term care calculator. The website caters to users from USA, Canada and Australia by providing them essential tools to help them plan their financial future. To contact them, please use the following details.
Contact details:
Web: http://www.acalculator.com
Phone: 123-456-7890