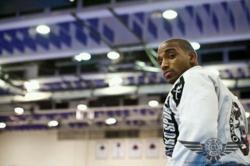 "Tye has been grinding for years, training, coaching and competing all around the world at the toughest tournaments," - Julius Park
Long Beach, CA (PRWEB) June 05, 2013
Crazy 88 competitor and coach Tye Ryan Murphy won six matches last week at the biggest jiu jitsu tournament of the year, becoming purple belt World Champion.
"Tye has been grinding for years, training, coaching and competing all around the world at the toughest tournaments," said Julius Park, Murphy's coach and the founder of Crazy 88 Brazilian Jiu Jitsu in Elkridge, Maryland. "He has put in tons of hard work and it shows. We are very proud of him."
On his way to gold, Murphy submitted three of his opponents and beat the rest by points, earning his spot at the top of the medal podium in the famous pyramid at California State University in Long Beach.
The Worlds, put on by the International Brazilian Jiu Jitsu Federation, brings together the best jiu jitsu competitors from around the globe for the toughest tournament of the year. It is the fourth and final of the "Grand Slam" tournaments, marking the end of the gi competition season.
A purple belt since 2011, Murphy has been a dedicated competitor, constantly putting his technique to the test at international-level tournaments.
In 2012 and 2013 alone, Murphy competed in dozens of IBJJF events across the United States, as well as in Lisbon, Portugal and Sao Paulo, Brazil. He won gold in his weight class in Sao Paulo, Miami, Atlanta, Chicago and New York and the open weight class in Boston.
But Murphy isn't just a competitor. To the students at his home academy Crazy 88, he is also an inspiring coach. Murphy teaches many classes at Crazy 88, from beginner to advanced, and he knows well how to pass along the knowledge he has gained from years of competition and training to students just beginning their jiu jitsu journey.
If you're interested in Crazy 88's 30 day free trial for kids or adults No Gi, Brazilian Jiu-Jitsu, Muay Thai Kickboxing or Mixed Martial Arts in the Baltimore area, please call (443) 283-1450 or visit http://www.crazy88bjj.com