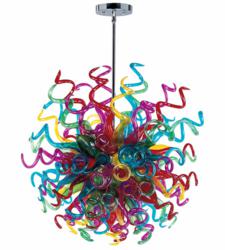 Lighting accounts for about 20% of annual household electricity bills, or approximately $200 per year.
(PRWEB) June 05, 2013
There is a new trend to live "green" and it starts in the home. Unfortunately, converting an entire house to be eco-conscious can take a big hit to a wallet. However, some small changes can have a big impact. The best place to start is with lighting. Lighting accounts for about 20% of annual household electricity bills, or approximately $200 per year. Energy consumption also has a negative effect on climate change. Using products such as energy efficient fixtures can lower footprints and save money by shrinking the electricity bill, leaving more money to continue renovating.
Start by replacing the lighting most used in the home like the kitchen and outdoor areas. If every home in the United States replaced 5 of the most frequently used lighting fixtures with energy efficient models, there would be $8 billion saved annually in energy costs. Energy efficient products use just a fourth of the energy of traditional light fixtures and lasts up to ten thousand hours. A reliable mark to look for in energy efficiency is Energy Star. Products considered Energy Star are independently certified to save energy without sacrificing features or functionality. It is important to note that Energy Star qualified light bulbs last about eight times longer than incandescent light bulbs. Also, the government grants rebates for the replacement of older model fixtures to new Energy Star Products. Companies such as Maxim Lighting and ET2 Contemporary Lighting have responded to the demand by increasing their supply of greener fixtures.
Maxim Lighting and ET2 Contemporary Lighting have used innovation to bring to the public eco-friendly collections while preserving their renowned design aesthetics. They have increased their collections to include over 200 different indoor and outdoor Energy Star fixtures to choose from. But if the newest technology is what is desire, LED is what is needed. Maxim and ET2 have increased their LED supply to now include chandeliers, pendants, wall sconces and even outdoor fixtures, leaving no area left over consuming energy. These lower- voltage light fixtures consume less than half as much electricity as fluorescents, and can last 10 times as long. When compared to incandescent lights, LEDs are 6 watts compared to incandescent's 60watts. It should be mentioned that lower watt does not mean less light, on the contrary, watts measures the power consumed by the bulb not the strength of the light. A light bulb with a lower watt intake, like most Maxim Lighting fixtures, which use energy saving light bulbs, will be cheaper in the long run, better for the planet and still maintain their beauty typical for any Maxim or ET2 fixture.
If wanting to go going green in the home is the goal, starting with lights is the best bet. If not wanting to sacrifice style while saving the Earth, choose Maxim Lighting and ET2 Contemporary Lighting fixtures. With a wide array of energy efficient collections both at conservative prices and brilliantly designed, this dream house is guaranteed to glow with a greener hue.
Visit http://www.maximlighting.com and http://www.et2online.com to find that perfect light.